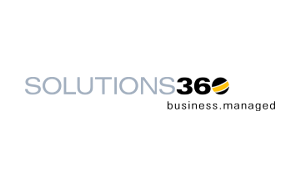 Business Management Software (ERP)
Solutions360 Provides Technology Integration Companies Software that Delivers Efficiency by Automating Workflow and Providing Real-time Visibility to Profitability Across Your Entire Organization.
We provide you with a single unified, purpose built software package that provides a 360° view of your entire business: sales automation, project management, job costing, service & dispatch, managed services, inventory and full accounting that is built into the fabric of the platform.
From 20 to 2,000 staff, your business is managed with Solutions360
Client Feedback

Colleagues, the efficiencies of Q360 continue to improve our internal processes. With our Q360 inventory bar-coding system, we have been able to complete a full inventory of our MSP warehouse in just under 6 hours (this used to take 2+ days)!  The MSP warehouse is now open for all SCS transactions.
– Alex Motta, Director, Client Services & Supply Chain, VTI Security

Brad, Tofiq, thank you for your time and the level of detail that you brought to the meetings. Your comments and insight will assist us with organizing our processes to take advantage of what Q360 brings to us in our quest to grow our company effectively for years to come.
– Michael J. Brennan, Purchasing Manager, Shanix

Just about everything. Efficiency, cash management, real time ACCURATE data, document management, process control, etc., etc. This program really hit it out of the park for us. I am elated, given the high failure rate of these types of implementations. The fact is both the program and the people doing the consulting on it were equally responsible for the success of the project.
End to end solution allows data storage in one place. Lots of options for User Setup allows for flexibility, Grid Layout with export capabilities is great, Document Linking is a nice feature, and Bank Reconciliation & RMA Processing happen as you expect they should, which has increased productivity. The ability to initiate a support call from within the software is a great feature.
Now that we have been using the software for a few years we are really learning to leverage even more than we envisioned. It was an integral part of enabling our growth last year with an 80% increase in revenues while using $1.5M less cash to do so. Enough said; this investment has paid for itself many times over."
– Kelly McCarthy, President, Genesis Integration Inc.
Request Information from Solutions360