D-Tools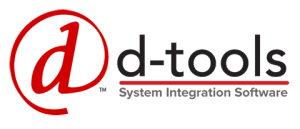 Software for Security Integrators and Technology Managers
D-Tools' System Integrator (SI) is the most widely used and comprehensive estimation, design, and project management software platform, specifically designed to fulfill the diverse needs of security systems design and installation firms. D-Tools ties project workflow together into a singular, data-driven, connected process that increases operational efficiency while reducing time and costs. Along with access to a comprehensive library of manufacturers' products, this solution positively impacts all areas of a system integrator's and technology manager's business.
D-Tools has enabled me to create comprehensive proposals and technical documentation for customers, sales executives, and technicians in a very efficient way. I'm very happy with the power and capabilities that D-Tools places in my hands. – Terry Sallee, Integral Building Systems, Inc.
D-Tools Improves Key Areas of Your Business Process:
Budgeting & Estimation
• Quickly produce fully customizable professional presentation documents
• Develop fast, accurate data-driven proposals to stay on budget
• Accessorize products and build pre-engineered packages
• Publish client-facing documentation to the web with D-Tools' Customer Portal
• Win more projects with the competitive advantage of fast, accurate quotes
• Seamlessly generating scope and budget for customer approval on the spot with Mobile Quote 2.0 app
System Design
• Easily generate detailed system design drawings in minutes – line drawings, plan views, rack elevations, interior elevations, functional schematics
• Work natively in Visio, AutoCAD, or both for clear communication across trades
• Drawings link directly to client, installation, and management documents
• Leverage integrated industry-standard Visio shapes and AutoCAD blocks
Project Management
• Drive visual reports and dashboards, and gauge deep analysis of business activity with D-Tools' Business Intelligence engine
• Generate Work Orders and Service Orders
• Manage project revisions and generate change orders
• Manage resources and schedule tasks in the field from any mobile-enabled device
• Generate management reports such as purchase order requests, checklists, labor and profit reports
• Create full installation documents and generate custom reports based on project information
• Automatically generate wire schedules, wire labels, and installation reports
READ OUR SECURITY INTEGRATOR'S GUIDE TO IMPROVED OPERATIONAL EFFICIENCY
D-Tools Contact:
Phone: 925.681.2326
Email: sales@d-tools.com
Website: www.d-tools.com
Interested in more information? Please fill out the form and you'll be contacted shortly.
Request information from D-Tools