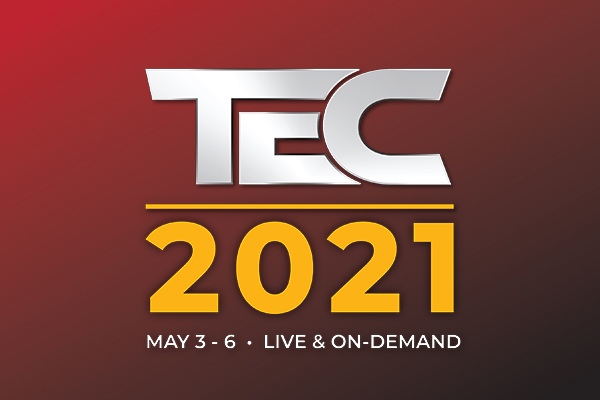 PSA TEC 2021 – That's a Wrap!
PSA celebrated 50 years at TEC 2021 May 3 – 5th in Denver, CO.  The network came together for business education, networking with their peers, and a little bit of fun and celebration along the way. The event hosted over 430 integrators representing more than 100 of PSA and USAV's most progressive owner and member companies from across our live and virtual platforms. A big thank you to the sponsors, speakers, and attendees who participated.
Mark your calendars! TEC 2022 is scheduled in Denver, CO, May 16 – 19, 2022.
---
TEC EDUCATION RECAP
This year at PSA TEC was a hybrid event with a small in-person presence for executives of PSA and USAV member and owner companies and a virtual conference open to all levels of systems integrators. We held three days of live educational sessions, four days of virtual education sessions and a full week of virtual certification sessions. Here's a look at what you may have missed:
State of PSA
Bill Bozeman, Dan Budinoff, Darryl Keeler, Matt Barnette and Ric McCullough share the State of PSA with the network. This year held many changes for PSA. The senior leadership and board members discussed the current year and what's ahead for PSA's future.
State of the Integrator
John Nemerofsky, Matt Barnette, Michael Ruddo and Pierre Trapanese took the stage to share their views on what's happening in the marketplace and the challenges and opportunities for the systems integrator including the opportunity that managed and hosted services present and how the new cybersecurity certification will affect integrators.
Creating a Culture of Excellence
Sarah Bohnenkamp gave an energized presentation to integrators on how to create a culture of excellence in your organization!  Sarah covered the best practices for communications and transparency, processes and procedures and work-life balance and explains how culture and leadership go hand-in-hand.
Registered attendees can check out the TEC virtual platform to review these and all other sessions available until August 2021! View Virtual Platform
---
TEC NETWORKING RECAP
The network was thrilled to be together again. The energy at TEC 2021 was undeniable. Networking events included a welcome reception on Monday, May 3rd after an afternoon of education, exhibit halls on day two and three, an exhibit hall reception and the celebration of PSA's 50th anniversary.
Welcome Reception
Exhibit Shows
50th Anniversary Dinner & Presentation of the Paul Marcus Award
50th Anniversary Dinner & Presentation of the Paul Marcus Award
---
CONGRATULATIONS VENDOR AWARD WINNERS!
---
If you have any ideas or suggestions for the PSA team, we want to hear them! Contact marketing@psasecurity.com.
 SEE YOU NEXT YEAR!
Denver, CO | May 16-19, 2022