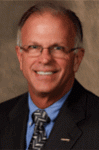 Dan Budinoff Inducted into SSI Industry Hall Of Fame
Congratulations are in order for Dan Budinoff, Vice Chair of the PSA Board of Directors and President of Security Specialists, who was inducted into the SSI Industry Hall of Fame based on his unforgettable impact on the industry. Security Sales & Integration (SSI) added five new members to their SSI Industry Hall of Fame this year during the ISC West conference. Dan joins the nearly 90 members of the Hall of Fame because of his professionalism, conduct and achievement.
Learn more about Dan's illustrious career and how he got started in security by owning a towing company in high school here.