Featured Integrator: Pref-Tech
At PSA, we believe our integrators are the most innovative, advanced and effective in the electronic security industry. To recognize these exceptional qualities, we will bring one PSA integrator to the stage each month and introduce them to the PSA community.
This month, we connected with Shaun Castillo, President of Pref-Tech who shared his experience, insight and expertise in becoming successful in the physical security market
How long has your company been in business?
We founded Pref-Tech on May 02, 2005.  We will hit 12 years this May.
To date, what has been the most unique or interesting job that you would be willing to share? 
We are blessed to have a great resume of unique, interesting, complex, challenging projects. We won our first, large, complex project in 2007.  We designed and built a perimeter intrusion detection system at Cheniere Energy's Sabine Pass Liquid Natural Gas Terminal in Cameron Parish, LA.  The system integrated ground-based radars with thermal and CCD cameras using Cameleon Tactical software.  The system provided immediate target identification and video assessment along the entire terminal perimeter.  Amazingly, the system is still functional today.
How did your Pref-Tech get started in the K-12 Education market?
When we started our business over a decade ago, we approached the K-12 Education market with our structured cabling services.  Our maturation as a security integration company has evolved with the security needs of the K-12 market. In the last year, we've unified access control with video surveillance and SIP-based communications systems for several K-12 customers.  The projects are sizable and technologically complex.  We are honored to help secure our children and those wonderful individuals that teach them.
What are some of the biggest challenges that integrators are facing in the K-12 Education Market?
We have had to overcome two big challenges to succeed in the K-12 vertical market.  First, K-12 customers usually have an imbalance between needs and budget.  Second, many K-12 customers strictly specify security systems and choose to procure those systems through open general contracts.  To overcome the needs vs. budget challenge, we must have direct, consultative relationships with security system stakeholders.  Fortunately, we've been able to develop great relationships with our K-12 customers and overcome budget challenges with creative solutions.
What other types of clients do you have?
Pref-Tech designs, builds, maintains, and services physical security systems, data networks, and other low voltage systems for all but residential customers.  We have, over the years, developed a high-level of competence and expertise in the following areas:
IT infrastructure, video surveillance, and access control for the following vertical markets:

Corporate Campuses and Office Buildings
Airports
Transportation Systems
K-12 Education
Higher Education
Industrial Facilities
Sea Port Facilities
Oil and Gas Production, Pipelines, and Refineries
Banking

Enterprise, IP-based video surveillance systems that span multiple locations and have challenging network conditions
Unified video surveillance and access control systems that integrate with other business systems and technologies
Perimeter detection and surveillance systems that incorporate solar power and wireless technologies
Transportation Worker Identification Credential (TWIC) solutions for facilities that must comply with Maritime Security (MARSEC) requirements
Consolidating and standardizing disparate security systems into one enterprise system
Network/structured cabling in all types of environments with both fiber optic and copper cables
What makes your company stand out in the physical security industry?
We believe that our success is a direct result of our very strong culture.  Our "P-GRIT" core values of Professionalism, Grit, Right!, Intelligent Thought, and Trusted Advisers define our culture.  We hire and retain employees based on core values.  We also align ourselves with vendors and customers that reflect and appreciate our core values.  In addition to our culture, we work hard to differentiate ourselves from our competition in several ways.  Those differentiators include:
Private Ownership: Charlie Castillo and Shaun Castillo are the only business owners and both actively and directly operate the company. Therefore, outside investors do not influence company actions and owners are responsible for every aspect of the company's operations.  Charlie and Shaun focus on improving the lives of Pref-Tech employees and delivering high-quality work with excellent service to Pref-Tech customers.  Most competitors focus on delivering revenue and profit for shareholders.
Self-Performance: Pref-Tech believes in executing 100% of a project with its own employees.  Pref-Tech does this for one simple reason— it can control quality better that way.
Competence: Customers expect Pref-Tech employees to be experts in what they do.  Pref-Tech, therefore, invests heavily in developing and maintaining competencies.  Pref-Tech has a great team of employees that can execute tasks ranging from aerial cable installation to custom software development.  Put simply, Pref-Tech employees know what they are doing!
Project Management: Projects today are often complex.  Pref-Tech believes that well-trained project managers are necessary to deliver the projects on time, to standard, and within budget constraints.  Pref-Tech project managers brilliantly negotiate project conditions, understand contractual obligations, and masterfully manage resources to achieve successful project completion.
Trust Relationships: Pref-Tech feels that it must establish trust relationships with customers and vendors to achieve long-term success. As a result, Pref-Tech operates with honesty, fairness, and transparency.
What qualities will a successful security integration company have?
The answer starts with the company's definition of success.  Pref-Tech succeeds when we achieve our purpose, which is to, within a family culture, nurture and inspire employees to deliver a high level of craftsmanship and service.  We have developed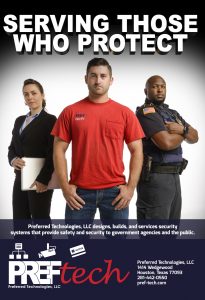 scorecards that measure how well we establish and maintain our family culture, nurture employees, inspire employees, deliver high-level craftsmanship, and deliver high-level service.  I would challenge other security integration companies to clearly define "success" and then align your investments and activities with only those investments and activities that achieve your definition of success.  Get focused!
What is your advice to individuals who are looking to build a career in security systems integration?
First, you can have a long-term, fulfilling career in the security industry.  My advice is to find a company culture that fits your values and personality.  Also, find a company that will challenge you to develop professionally and personally.  Most potential employees start with position and compensation.  If you find the right fit, you won't have any trouble landing in the right position or earning your due compensation.
Is there anything else you would like the PSA Community to know about you or your company?
We would like to thank the wonderful lead technicians and technicians of Pref-Tech.  This group is our backbone.  They are our rock stars.  Thank you for representing our core values at all times, delivering craftsmanship and service daily, and always protecting the family.  You make Pref-Tech an awesome place to call home. We value the industry and all those that contribute positively to it.  We love to collaborate.  Don't be a stranger!  Get to know us!