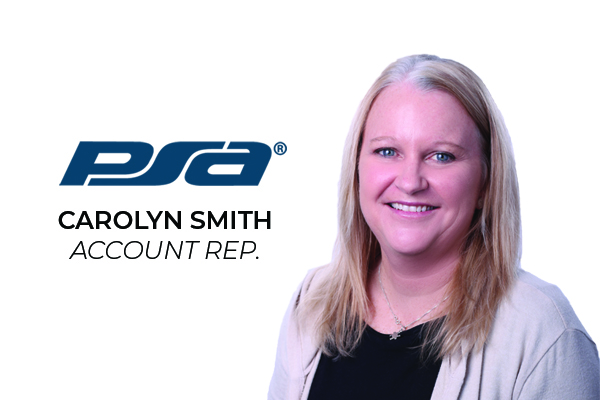 Five Minutes with Carolyn Smith
Ever wonder who keeps the PSA engine running?  A team of talented, intelligent, and fun people are working hard every day to ensure PSA leads the charge in the systems integration industry.
Get to know us a little better!  Meet Carolyn Smith, account representative at PSA.
---
Describe your job in a couple of sentences:
I help service Tech Systems and back up the Top 15 Integrators with order entry, resolving any delivery issues, obtain tracking for orders and giving the best customer service possible to stay in alignment with PSA's standards!
How long have you worked for PSA? 
I started at PSA on Feb. 3, 2020.
Can you share a little bit of information about your professional background?
My previous career was with Niman Ranch (Meat Industry). I was a sales support specialist that involved servicing the top customers for Niman: Whole Foods Market National Acct, Butcher Box National Acct, Chipotle National Acct, and Premier Foods. I was also the trainer for the dept for any incoming new sales support partners and wrote up all policies and procedures. In my career before that, I worked for a non-profit organization, International Titanium Association, where I was an account representative and a trade show exhibit coordinator. Prior to that was my fun retail career where I was the general manager for four Old Navy locations in Colorado, one location in Florida, and the store manager for two GAP locations in Florida. I graduated from the University of Florida with a  BS in Business Administration and a minor in Marketing.
What was it about PSA that caught your interest?
I was first introduced to PSA by James Gallagher who used to be my supervisor at Niman Ranch. He highly recommended PSA as a place I would love to work and could grow with. My first interview I was sold by Tim Brooks and Ric McCullough with their humor and lighthearted conversation. I felt like I belonged right away and the quality of the staff really caught my eye (thank you, Sonja Gallagher, for greeting me on my first interview!).
PSA is so much more fun and rewarding than any other company I have worked for and we are given the freedom to do our jobs without being micromanaged. We are trusted employees which makes me feel valuable. The family-like environment is infectious and I hope to retire here!
What do you enjoy most about working here?
I enjoy the people I work with, the team I am on, and the overall work environment. I really love working with my customers and getting to know them by helping out with a problem or just processing their orders in a timely manner. My favorite fun thing is Donut Fridays and our virtual Happy Hours. Everyone is like family here and I love that type of environment. We look out for one another!
What do you like to do for fun?
I enjoy hiking, snowshoeing, gardening, scrapbooking, skiing (if I could ever afford it!), watching movies with the family, traveling and fun with friends.
Any fun or interesting facts about yourself?
I have been to Beijing, China as a trade show representative. I traveled to Europe twice in High School. I was on the cover of a Retailing magazine for being the first retail intern for the University of Florida School of Business. I am obviously from Florida! I love the water. I am a band mom as my son is in marching band for his high school. I have a son with Autism whom I love dearly, met my husband on a snowshoe hike that I was almost late for. I am a  nerd – I actively play Pokémon Go.