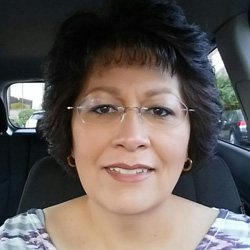 Five Minutes with Eleanor Bustos
Ever wonder who keeps the PSA Security Network engine running?
A team of talented, intelligent and fun people are working hard every day to ensure PSA leads the charge in the electronic security industry. Each month we showcase one of our PSA superstars so you can get to know us a little better.
This time we spent a few minutes with Eleanor Bustos, the newest addition to the customer service team.
Describe your job in a couple of sentences:
As a customer service rep. we are the jack of all trades, however placing orders, obtaining pricing and answering phones is what we do best.   We all try very hard as a team to meet the customer needs every day.
How long have you worked for PSA?
I have worked at PSA for three months now and I have learned something new every day.
As one of PSA's newest employees, what are you enjoying most about working here?
First of all, it's only minutes from my house!  I've been commuting to work for the last 17 years and it is so refreshing to be able to sit down and have breakfast with my daughter before rushing out the door to work. I've also enjoyed working with some fabulous people and love the fact that this place has such a warm and inviting atmosphere.  My last two jobs were with large companies and you just don't ever get that personal feel like you do here.
What do you like to do for fun?
I am a Colorado Native and I love Colorado summers!  I do a lot of fishing and camping and just generally like being outdoors, however I do not like being cold so I am not looking forward to winter and no, I don't ski!
Any fun or interesting facts about yourself that you want to add?
I have a beautiful eight-year-old daughter, Nykol. Just when I thought I would never have children, on my 40th birthday I got the best present ever!  She is my pride and joy and I love spending every minute with her, now you know how special those breakfasts are with her!