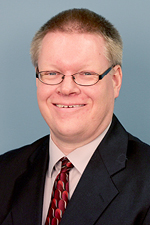 Five Minutes with Eric Blyth
Ever wonder who keeps the PSA Security Network engine running?
A team of talented, intelligent and fun people are working hard every day to ensure PSA leads the charge in the electronic security industry. Each month we showcase one of our PSA superstars so you can get to know us a little better. This month we'd like you to meet the newest addition to the PSA team, Eric Blyth.
What is your official title:
Loan and Compliance Manager
Describe your job in a couple of sentences:
My job is to institute and manage the recurring monthly revenue lending program.
How long have you worked for PSA?
A little over two weeks.
Can you share a little bit of information about your professional background?
I have filled a variety of roles in the banking industry since 2003, from teller, to credit analyst to loan officer with a couple years of auditing for the Colorado Department of Education thrown in.
What was it about PSA that caught your interest?
I was drawn to the opportunity to get in on the front end of a new offering, in which I could have an impact on the design and implementation of the new credit product that could be very beneficial to our owners.
As one of PSA's newest employees, what are you enjoying most about working here?
I am enjoying the challenge of learning about a line of business that I am not all that familiar with. Also, everyone here at PSA has been so warm and welcoming.
What do you like to do for fun?
I love spending time with my wife and 6 year old son. When I can, I enjoy hiking, camping, fishing and reading.
Any fun or interesting facts about yourself that you want to add?
I majored in Forestry, with a concentration in Forest Fire Science at Colorado State University, which, of course, led directly into a career in finance.