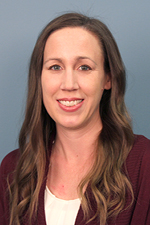 Five Minutes with Jennifer Anderson
Ever wonder who keeps the PSA Security Network engine running?
A team of talented, intelligent and fun people are working hard every day to ensure PSA leads the charge in the electronic security industry. Each month we showcase one of our PSA superstars so you can get to know us a little better. This month we'd like you to meet the newest addition to the PSA team, Jennifer Anderson.
What is your official title?
Event Planner
Describe your job in a couple of sentences:
I manage the day-to-day event planning activities and logistics for TEC, Convention and all other meetings and events at PSA. I also provide logistical support for industry tradeshows.
How long have you worked for PSA?
2 weeks
Can you share a little bit of information about your professional background?
I started my career in the hospitality industry and worked in both the sales and catering departments of a hotel where I got my start in event planning. From there I transitioned into meeting planning for a local association. For the last 10 years, I have planned conferences and tradeshows for an association within the gift market industry.
What was it about PSA that caught your interest?
I liked my work within the association industry as I enjoy working with members and volunteer groups by helping to provide them with the tools and resources they need to succeed. When I found the mission of PSA, I thought it would be a great fit.
As one of PSA's newest employees, what are you enjoying most about working here?
I am looking forward to getting to know the security industry. Also, PSA has a wonderful and dedicated team that I look forward to working with.
What do you like to do for fun?
Most of my free time is spent with my family. My husband and I have 2 small boys and numerous pets keeping us busy. When I am not playing chauffeur to my kids, I enjoy reading and love to cook.
Any fun or interesting facts about yourself that you want to add?
My family moved around quite a bit when I was younger and I lived in 4 states by the time I was 13. But, my family fell in love with Colorado when we moved here and I have been here ever since!