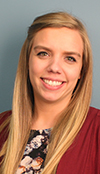 Five Minutes with Kelly Veilleux
Ever wonder who keeps the PSA Security Network engine running?
A team of talented, intelligent and fun people are working hard every day to ensure PSA leads the charge in the electronic security industry. Each month we showcase one of our PSA superstars so you can get to know us a little better.
This time we spent a few minutes with the one of the newest PSA rock stars. Meet Kelly Veilleux!
Describe your job in a couple of sentences:
As the marketing/event coordinator I am lucky enough to have my hands in a different creative project almost every day.  I'm a bullet-point kind of gal so I love finding new ways to present information in a graphic way that the end user will actually follow start to finish.  When I'm not working on event materials or graphic design projects you'll often find me editing video, finding new ways to give Bill Bozeman that movie star edge!
How long have you worked for PSA?
I'm a new addition to the PSA team, going on month 2!
As one of PSA's newest employees, what are you enjoying most about working here?
The team we have here at PSA is top notch.  Everyone is incredibly sharp and on their game!  I appreciate that we are all encouraged to participate in furthering education.  PSA provides us with every resource to expand our professional knowledge base and keep our skill sets up to date with the latest industry trends.
What do you like to do for fun?
I'm no Bobby Flay but I love to cook. Well, we're all friends here… really, I love to eat!  Every now and then I get full and I like to take on crafty projects or play darts!  I recently started rock climbing after being blown away watching a psicobloc competition. It's really fun but I'm a long ways away from climbing over open water!
Any fun or interesting facts about yourself that you want to add?
I have two critters at home- a poodle mix and a hairless cat that just may be plotting to kill us all.  I've lived in Colorado for almost 10 years now but have never skied or gone snowboarding- what is wrong with me?