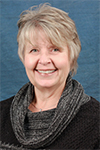 Five Minutes with Nancy Hoffman
Ever wonder who keeps the PSA Security Network engine running?
A team of talented, intelligent and fun people are working hard every day to ensure PSA leads the charge in the electronic security industry. Each month we showcase one of our PSA superstars so you can get to know us a little better.
In January, we spent a few minutes with Nancy Hoffman, the newest addition to the accounting team.
Describe your job in a couple of sentences:
As PSA's Credit Manager, my focus is to maximize sales while protecting the company's assets. I am our customers' primary contact regarding their accounting needs from and obligations to PSA. This includes collections, maintaining account records, generating statements, and working with deductions and disputes. In order to improve cash flow into PSA, I work with our vendors to track our customers' credits.
How long have you worked for PSA?
It will be three months on February 1st.
As one of PSA's newest employees, what do you enjoy most about working here?
I love the team spirit! I appreciate everyone's helpfulness during the learning curve. I also think NetSuite is a great ERP software package to work with.
What do you like to do for fun?
I like to travel – I have 13 states to visit before I can say I have visited all 50. I really enjoy food (both cooking and tasting), baking and entertaining in my home. I'm passionate about California wine….red wine…wine from Washington/Oregon too….white wine…Schramsberg sparkling wine…..wine, wine, wine! I also like to do several craft projects like quilting, knitting and scrapbooking.
Any fun or interesting facts about yourself that you want to add?
I was married for 29 years and have been divorced for 14. I do not have children but my BFF has always shared her children. I brag I have two Rent-a-Kids and four Rent-a-Grandkids that are just like my own. I share my home with my five year old West Highland Terrier, Winston, who runs the show!