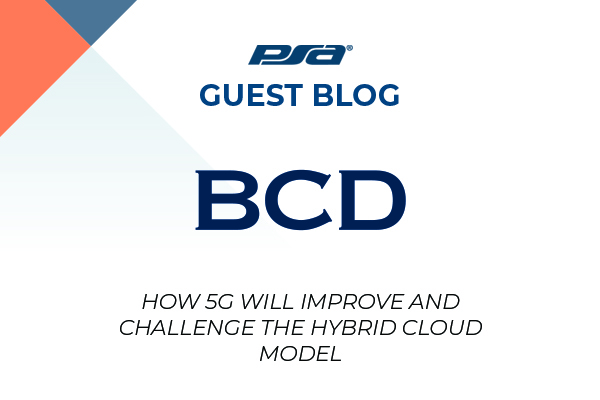 How 5G Will Improve and Challenge the Hybrid Cloud Model
Author: BCD
---
Today, one of the most effective ways of processing and storing data is through a hybrid cloud model. Hybrid cloud utilizes robust servers for immediate data processing and video analytics at the edge and migrates data to the cloud for deep learning and archiving. When enterprises deploy on-premises storage connected to a private or public cloud, customers gain a foolproof solution that allows them to increase retention time and expand storage capacity as needed, while also reducing both capital expenditures and operational expenses.
When it comes to transferring video from end points, such as surveillance cameras, to servers at the edge or in centralized locations for storage, 5th generation (5G) wireless technology is positioned to be a game-changer. While 5G offers advantages for customers using the hybrid cloud model, such as improved video streaming and rapid download speeds accessing video from the cloud, there are also challenges, including cybersecurity risks, that clients will need to address.
The Capabilities of 5G
The 1980's watched 1G deliver analog telecommunications into the hands of eager buyers in the form of the first generation of wireless cellular technology. In the early 1990's, 2G built on the foundation of 1G, introducing functionalities such as encrypted phone conversations, SMS text messages, and a significantly more efficient use of the radio frequency spectrum. Throughout the early 2000's, 3G introduced mobile data to the world, while the 2010's ushered in 4G LTE, along with a new era of mobile broadband.
Today, 5G uses revolutionary OFDM (orthogonal frequency-division multiplexing) methods to modulate digital signals across several different channels, reducing interference and making 5G exponentially faster and more accessible than previous models. 5G also brings greater bandwidth by expanding the use of spectrum resources, super-powering mission-critical communications and IoT networks with ease. In fact, 5G has 100x the network capacity compared to 4G, allowing for millions of devices, sensors, and systems to be connected to the same network in a small area. For Smart Cities projects, which aggregate video and data from thousands of surveillance cameras, license plate readers and other sensors, 5G offers a tangible advantage.
Another defining benefit of 5G is that it delivers ultra-low latency, near real-time inactivity. This is ideal for security applications that require rapid installation where infrastructure is low. Prime examples include outdoor concerts, festivals, and gatherings.
Challenges of 5G
For Smart City applications, ensuring video and data accessibility is key. This means choosing a reliable, enterprise-A key risk that a 5G network presents is increased exposure to cyber-attacks. As a public network, 5G increases the number of penetration points and exposure to hackers. If threat actors gain access to a 5G network, they can disrupt it, access data on the network, and sabotage infrastructure connected to the network. To mitigate these concerns, security manufacturers are building cyber defense protocols into devices that connect to 5G networks for heightened cyber protection.
5G and Hybrid Cloud
If a hybrid cloud model is powerful today using traditional broadband networks, introducing 5G will increase efficiency. Customers will be able to stream, review and access video from the cloud much faster. While 5G does offer lower latency for video transfer, in reality, this claim does not hold up without leveraging edge computing. Thus, for streamlined video recording, analysis and storage, customers should consider using a hybrid cloud model where video and data move from end points to servers at the edge, and lastly, to the cloud.
Lessons Learned
The same way 4G LTE ushered in a new era of mobile broadband; 5G is set to do the same. Experts anticipate 5G to grow quickly. 5G is now available in 1,336 cities globally, a 350 percent increase over the past year, as reported by Viavi Solutions Inc. (VIAVI). 5G is also forecasted to support "a wide range of industries and potentially enabling up to $13.1 trillion worth of goods and services," according to Qualcomm's 5G Economy study.
When designing video surveillance systems, customers who implement 5G network infrastructure and smart hybrid cloud storage models will set themselves up for success and experience better video performance. Clients who implement cyber protection best practices for the network, as well as network devices, will mitigate cyber threats.
---
Get to know more about BCD at Convention 2021 in San Diego this October.