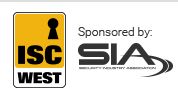 Inside the 2017 ISC West Trade Show
ISC WEST is THE largest security industry trade show in the U.S.
Spread amongst the thousands of Exhibitors at ISC West; you will find four key pavilions on the Show Floor. These are Connected Security Expo, Connected Home Pavilion, Unmanned Security Expo, and Public Security & Safety. This one of a kind Show Floor will give you the chance to network with over 29,000 security professionals through:
For those interested in Exhibiting at ISC West, please contact Steve LaRoche at SLaRoche@reedexpo.com and for those interested in attending the Show? Click here or go to www.ISCWest.com/PSA to register today!
Need Help? We know it can be difficult to convince your manager and illustrate the ROI of your attendance, so we have built an all new Convince Your Boss tool. This program generates a proposal in 3 easy steps to help you convince your boss that ISC West is THE place to further your knowledge and expertise in your field as well as find the right solutions for your open projects.
2017 Show Dates, Time and Location:
Sands Expo Hall, Las Vegas Nevada
SIA Education@ISC
Tuesday April 4, 2017 8:30am – 5:00pm
Wednesday April 5, 2017 7:30am – 3:00pm
Thursday April 6, 2017 7:30am – 3:00pm
Exhibit Hall
Wednesday April 5, 2017 10:00am – 5:00pm
Thursday April 6, 2017 10:00am – 5:00pm
Friday April 7, 2017 10:00am – 3:00pm