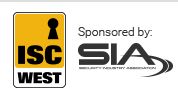 ISC WEST 2018 – COMPREHENSIVE SECURITY FOR A SAFER, CONNECTED WORLD
ISC West is THE largest security industry trade show in the U.S. At ISC West, you will have the chance to network with over 30,000 security professionals through New Products & Technologies encompassing everything from IT and IoT security to access control and unmanned vehicles from over 1,000 Exhibitors & Brands.­­ ISC West is the only event that unites the entire security channel.
Exhibitor & Brands: See 1,000+ new products & technologies covering everything from video surveillance, access control, biometrics to smart home, public security, unmanned vehicles and more.
SIA Education@ISC West: In collaboration with SIA, ISC features world-class education covering every facet of the security industry including cybersecurity, intelligent physical security, IoT and more!
Connected Security Expo @ ISC West: As the digital and physical worlds collide, it is increasingly important for industry professionals to protect their organizations and clients from both physical and cyber threats. Connected Security Expo provides holistic solutions for today's connected organizations.
Connected Home: Home Automation has rapidly become a demand of today's consumer. The "Smart Home" is where lighting, temperature control, home appliance, security, and entertainment systems connect. As homeowners increasingly demand these smart technologies, a vast opportunity is presented to the security industry.
Unmanned Security & Safety Expo @ ISC West: Unmanned Security & Safety Expo @ ISC West focuses on Unmanned Aerial Vehicles (UAVs), Unmanned Ground Robotics & Vehicles (UGVs), and the various software and applications that support them.
NEW! Emerging Technology Zone: The Emerging Technology Zone @ ISC West showcases the next generation of innovative products and solutions that will help revolutionize the security industry. Featuring 50 of the latest and greatest startup businesses, these entrepreneurial start-up companies will help drive change and evolution in our complex cyber-physical security landscape. Located in Hall G, the Emerging Technology Zone area will be placed between attendee registration and the food court, and will open an hour earlier than the rest of the Expo!
Public Security & Safety: Public Security & Safety Expo at ISC West draws public security officials from around the world. Since PSS Expo was introduced, attendance by public security officials has risen by 40%, making ISC West a perfect opportunity to network with colleagues and connect with other security professionals. If your job is to protect our borders, towns, cities, schools, healthcare facilities, government institutions, and cargo facilities, Public Security & Safety Expo has all the solutions available for you to research and source.
Who Should Attend?
Physical and IT security professionals including dealers, installers, integrators, end-users (from various vertical markets), consultants, specifiers, architects, engineers, and more. Interested in attending the Show? Visit www.ISCWest2018.com/PSA to register for free today!
Why Exhibit?
ISC West attracts 30,000+ security professionals and is the ONLY event that brings the entire security channel together in one place. As the first major security event of the year, it's the single best place to promote your brands, launch new products, and meet buyers with open projects. Be a part of ISC West. For those interested in Exhibiting, please contact Bob McFarland at rmcfarland@reedexpo.com.
2018 Show Dates, Time, and Location:
Sands Expo
Las Vegas, Nevada
SIA Education@ISC: April 10-12, 2018
Exhibit Hall: April 11-13, 2018