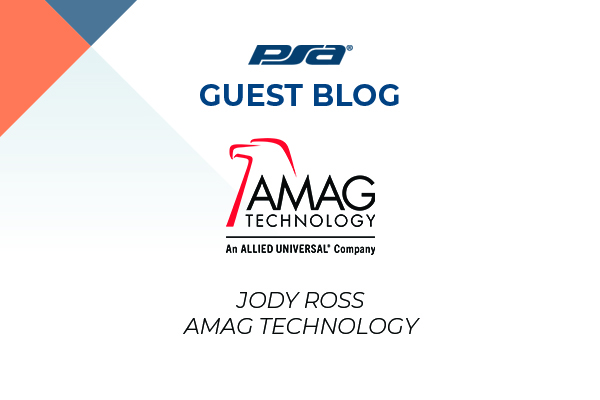 Overcoming Historical Service Gaps Creates Lifelong Customers
By Jody Ross, VP of Sales, AMAG Technology  
---
The list of issues that keep security leaders up at night is long. If you could help your customers remove some of these burdens to keep their security programs in compliance and running smoothly, would you help them to sleep better at night? Unfortunately, security directors have grown accustomed to process challenges that are unacceptable in other industries. This needs to change.
What keeps security leaders up at night?
System failure tops the list. What happens when a system fails? Is technical support available at all hours of the day? There is never a good time to have a system failure and they often happen in the middle of the night or during an important event.
Catastrophic events such as shootings, blackouts, and weather incidents worry security leaders.
What if a security system doesn't perform as expected? End users invest thousands of dollars and expect a system to perform. If a system doesn't meet expectations, it puts a building and people at risk, and the security leader's job could be in jeopardy for not meeting leadership's expectations.
Antiquated equipment that needs to be replaced, obtaining a budget to purchase products, services or support, or the need to hire more staff also cause sleepless nights.
Does the security industry's overall current level of support alleviate these issues? No.
Is this level of support acceptable in other industries? Consumers expect easy return policies (similar to Amazon), simple product replacements when needed and short hold times.
What is the best way to support the customer?
The integrator and manufacturer must work together and present a united front to support the end user. Often there is a disconnect between manufacturers and integrators, which hurts the end user. Open communication between all parties is essential so everyone is on the same page. Expectations must be set and understood on all sides as to product availability, which organization provides what support and putting together a software upgrade plan. An easy-to-understand escalation path is needed to resolve issues.
Developing a playbook for clients can clarify how everyone should work together in a partnership. It should be shared with all parties and include granular details such as which products are acceptable for expansion, who to contact for what, etc. Creating a plan that identifies what happens protects the client's credibility.
Communication must be more inclusive and a high level of respect shown for all involved.  Integrators and manufacturers need each other and must manage projects together,
How can vendors and integrators improve service level expectations to best support their end users?
Manufacturers need to start offering no hassle, and easy return/replacement policies. If a panel fails, the manufacturer should overnight a replacement. Limit paperwork and streamline processes to simplify procedures. In other words, make doing business with your company EASY.
Encourage Site Support Agreements. When an end user invests in a Site Support Agreement, they receive expedited technical support and customer service. They receive free software upgrades to ensure they are always up to date. Customers can participate in proactive business reviews to ensure their system is operating at peak performance.
Work with the manufacturer's Professional Services department when a specialized project or change is required. A ProServices team provides customized, personal support to ensure a solution is operating as it should. Regularly scheduled meetings encourage communication and relationship building for all parties and help keep projects on track.
Manufacturers and integrators can offer workshops to help end users determine how to better optimize their security management system. A workshop identifies what is going well and the gaps in a company's systems and processes.  Recommendations are made to close the gaps and streamline operations. The workshops are free of charge and provide the end user with the next steps to improve.
The workshops can help reveal how the end user's security department can become a profit center and an asset to the organization. Using existing data from access control and video systems, or by installing analytics systems, security directors can find creative ways to use data to save operational expenses. For example, data analytics applications can discover employees who are stealing from the company.
Integrators must maintain certifications in their solutions so they completely understand the product they are installing and supporting. Lack of knowledge frustrates the end user who relies on the integrator for their expertise.
The industry has a long way to go before its service levels rival Amazon, Apple or Google, but it can be done! The time is now to step up and provide excellent service and support. Your customers will thank you by sticking around.
---