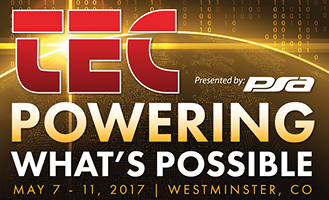 PSA SECURITY NETWORK ANNOUNCES EDUCATION LINEUP FOR TEC 2017
Annual Security Conference to Bring Together Leading Experts in Physical Security, Audio-Visual, Cybersecurity, and RMR

WESTMINSTER, CO- January 23, 2017 – PSA Security Network (psasecurity2021.insightful.design) the world's largest electronic security cooperative today announced the education conference agenda for TEC 2017 (www.psatec.com). The annual security conference will be held in Westminster, CO on May 7-11, 2017.
The theme of TEC 2017 is "Powering What's Possible." This year's conference will hinge on emerging topics and technologies in the industry including cybersecurity, RMR, the intersection between physical security and audio-visual applications, in addition to providing development opportunities for industry professional across all business disciplines. Showcasing current themes for systems integrators, this year's conference tracks include audio-visual, cybersecurity, management, operations, procurement, sales and marketing, and technical. Plus, TEC will host certification exams and review opportunities from leading security industry associations including:
ASIS Certified Protection Professional (CPP) Review Course
ASIS Physical Security Professional (PSP) Review Course
CompTIA Security+ Training with Practical Emphasis on Physical Security
Electronic Security Networking Technician (ESNT)
SIA Certified Security Project Manager (CSPM)™
SIA Security Project Management Training Seminar
"PSA TEC is committed to providing education sessions that address the needs of everyone who works for a security company, not just those in the management suite," said Anthony Berticelli, Director of Education for PSA Security Network. "With over 100 sessions for attendees to choose from, TEC continues to be the one-stop education summit for systems integrators."
In addition to the core education line-up, TEC 2017 will also feature a special keynote presentation,
"Cybersecurity Risks and Recommendations – Where Your Focus Needs to Be" presented by Matthew Rosenquist, Cyber Security Strategist for Intel Corporation. Rosenquist, a renowned cyber strategist and evangelist with over 25 years in the field of security, will discuss the top three cyber security risks to a business and offer recommendations on how security professionals can become part of the solution and not a victim.
"Matthew Rosenquist is one of the most outspoken advocates for cyber security," said Bill Bozeman, president and CEO of PSA Security Network. "I have no doubt that his presentation will ignite security professionals from both the integrator and vendor communities to take action against these common cyber dangers."
TEC will also showcase over 100 leading security and audio-visual product manufacturers at the exhibit hall, open for one day only on Wednesday, May 10.
Registration opens February 8 for PSA Security Network Owners and general registration for all industry professionals opens February 15.  Space is limited in select sessions so attendees are encouraged to register early.
To learn more about PSA TEC, visit www.psatec.com.
---
About PSA Security Network
PSA Security Network is the world's largest electronic security cooperative, owned by the most progressive integrators throughout North America. Combined, PSA members boast over 300 branch locations, employ nearly 6,000 security industry professionals and are responsible for over $3.5 billion annually in security, fire and life safety installations. PSA's mission is to empower its owners to become the most successful systems integrators in the markets they serve. PSA brings this mission to life by partnering with industry leading product and solution providers, delivering unparalleled education and training programs and by offering a variety of distinctive services that can enhance any company's operations. Learn more at psasecurity2021.insightful.design.
Media Contact:
Kim Garcia
Director of Marketing
PSA Security Network
Office: 303-450-3467
Kgarcia@psasecurity.com