PSA TEC 2017 | Sales and Marketing Committee Session Summaries
The PSA Sales and Marketing Committee hosted three sessions at PSA TEC 2017.
New to Security? 10 Things Every Sales Professional Should Know Before Making Sales Calls
During PSA TEC 2017, the PSA Sales and Marketing Committee hosted a peer-led, interactive education session titled 'New to Security? 10 Things Every Sales Professional Should Know Before Making Sales Calls'. This session dug deep into basics for new security processionals, asking questions like "Where does security fit into a prospective customer's budget?" "Who makes the final decision over technology?" and "What makes your company the best fit for that project and how do you convince your prospect?" Many attendees were focusing on improving their selling strategy, and this session provided attendees with a fundamental understanding of how commercial security is sold.
Below is a vertical market analysis created by PSA's Sales & Marketing committee to depict the market breakdown and the percentage of their security footprint or security usages (i.e. access control vs. intrusion detection systems vs. video management systems vs other).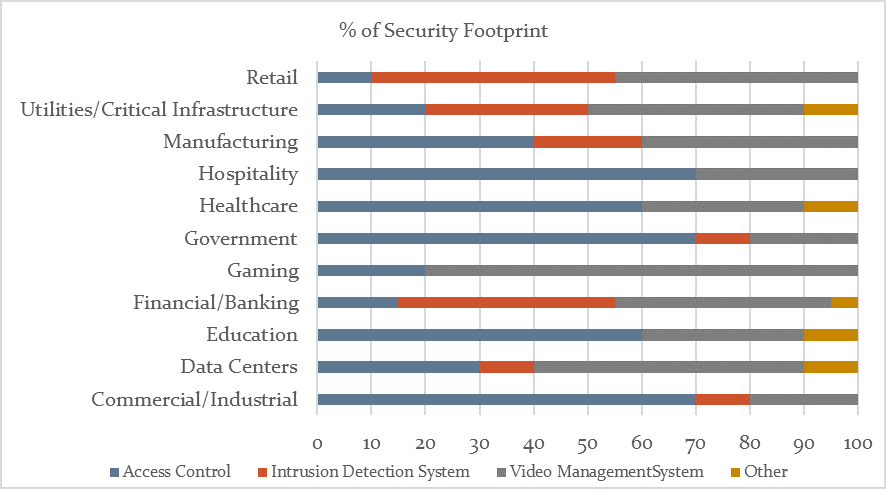 The customers in the physical security industry consist of property, people, and processes. Important departments you will work with and the issues each department handles include cybersecurity/IT (network, bandwidth, technology management), facilities/operations (mechanical, business operations, efficiency), and the C-Suite (key performance indicators, budget, return on investment, protecting the brand).
The goal of the security operation is:
Deter – fencing, overt video surveillance, guard patrols, lighting, access control
Detect and identify – intrusion systems, video analytics
Delay – layered security design, CPTED
Respond and apprehend – dispatch, voice down
Recover – report, analyze and adapt
Prevent – prepare, conduct risk assessments, situational awareness
Typically, security fits into a prospective customer's budget at the bottom, however, that can change depending on the levels of compliance in the market you are serving. For example, below is a list of markets and the certain security compliance they must meet based on that market:
Financial: PCI Compliance
Gaming: 25 CFR 542
Healthcare: HIPAA, Pharmaceutical
Manufacturing: TAPA, FSMA
Utilities: CFATS, CERC-CIP
So, who makes the final decision over the technology that will be deployed? Once again this is a multi-department decision. When it comes to functionality and design expectations, this typically is addressed by the physical security department. This department oversees access control, monitoring activity, recording security history, and reporting for compliance. For cybersecurity compliance and technology performance, the IT department is ideal in making the final decision over the technology. The IT department is concerned with communication protocols, cyber-hardening requirements and capabilities, and redundancy/disaster recovery. The facilities & operations departments are the ones who make the decision on technol0gy and its convenience versus the safety and security. Overall affordability and cost effectiveness & KPIs is the decision for the C-Suite as they are concerned with maximizing the bottom line, improving key metrics, and aligning security goals with the organization's goals.
In order to make your company the best fit for that project and to convince your prospect of such, you will need to take into account which vertical markets your company currently specialize in and what products and services you are providing to your "best customers."Consider how you can repeat and expand upon your current footprint and you'll have another sale under your belt in no time
From Sales Rockstar to Superstar!
The second peer-led interactive education session from the PSA Sales & Marketing Committee was 'From Sales Rockstar to Superstar!' You are good at relationships. You are good at sharing your company's value proposition. How can you step-up your sales game? This session provided attendees with ideas for improving closing ratios, shortening sales cycles, increasing sales with existing customers, and generating referrals. No matter how awesome you already are, there are always things you can do to win more business. Don't settle for 'good enough' – superstars do not settle.
The PSA Sales & Marketing Committee kicked the session off with suggestions on how to improve closing ratios. First, you have hot leads which may consist of existing customers in need of additional services, or a prospect  in ongoing conversation with an immediate need, or a customer who has an incident reaction (for example, they may need video coverage due to an event where evidence is required or need access control due to an unauthorized access event). Other hot leads may include converting industry trends like cybersecurity, end-of-life announcements, and compliance, into business opportunities.. Next, you have warm leads which may include a contact from a tradeshow, an invitation to bid from an unfamiliar organization, marketing automation or lead generation efforts, or a client referral. Whether it is a hot lead or a warm lead, it is important to establish short-term and long-term goals. First, you need to prioritize your leads, focusing on quality, the likelihood of closing, and time management of this potential client. A very high priority would be to try to firmly anticipate the closing date, accounting for move-in date, budget schedule, sense of urgency, andaudits/compliance deadlines. A lower priority in closing would be the soft anticipated closing date, evaluated through life-cycle management, budgetary proposals, and the wish-list (efficiencies, reactions, general improvement).
Methods to shorten sales cycles were also offered by the PSA Sales & Marketing Committee. To get started you must ensure you have adequate access to funding, you have action items in place for both you and the client, and that you are very clear in your messaging and documentation with the client. A great suggestion was to offer a quality solution and make sure you are listening, hearing, and understanding your client's needs.
One approach to increasing sales with current customers is to add new services to their existing portfolio such as a preventative maintenance inspection, managed services, or new technology. This is also an opportunity to broaden your offerings and forma new silo of business. The committee suggested having an annual review of your client's system performance and security program to ensure it is aligned with the security objectives and review the ROI.
Lastly, the PSA Sales & Marketing Committee offered suggestions on how to generate referrals. To gain referrals from your existing customers, offer them a survey at the close of the project with a field for referrals and an opportunity to provide a testimonial.  Build strategic partnerships with your consultants, manufacturers, and professional networks – they can also be great resources for referral clients. Another method for generating referrals is through social media. Have customers endorse you on LinkedIn or provide social media reviews on your website.
Take these simple suggestions from the PSA Sales & Marketing Committee and become a Sales Superstar!
Marketing Content Development – A Workshop for Security Professionals
The third peer-led interactive session hosted by the PSA Sales and Marketing Committee at PSA TEC was 'Marketing Content Development – A Workshop for Security Professionals.' Attendees of this session learned how to develop content that is social-media ready and how to create templates for customer-facing documentation and presentation materials. Additionally, the committee illustrated how to produce a 60-second video that can easily be uploaded to YouTube to get your message across in a clear and concise manner.
The PSA Sales & Marketing Committee began the discussion with instructions on how time is spent creating marketing content in three key areas: creating social media messaging, developing customer-facing content, and creating a marketing video.
The first step when creating social media messaging is to define your target audience and determine your message. Then decide on the platform you would like to use and dive on in! The most-shared social content includes infographics, content that evokes emotion, content with images, list posts, and newsworthy content. Craft your message toward your intended audience and think how you want them to hear, see, and feel your content – what do you want them to remember? The committee encouraged attendees to get creative with their content and see what works best for their brand.
Committee members also shared tools and resources to use when creating content:
Pexals.com (Free Photos)
Canva.co (Media-Ready Images)
HootSuite / Tweetdeck (Post Scheduling)
Next, the PSA Sales & Marketing Committee dove into creating customer-facing content to include on websites, collateral, tradeshow setup, and proposal documentation. When getting started, consider what you are communicating to the audience and why. Depending on the end goal, you may include your company's background, areas of expertise, what makes you different, how your services are delivered and what are the advantages of working with your company. Key considerations when creating your customer-facing content includes having consistent language, terminology, and writing styles. Another important aspect of content creation is the visual appeal of your message. Make sure to use consistent branding (color selections, logo, names of products/services, definitions, etc.) to create a unified experience across platforms and materials.
Lastly, the Committee discussed how to easily create a marketing video. See Committee Vice-Chair Robbie Danko's video example here: Making a Marketing Video. When creating a video, you should consider what you want your video to be about and what the goal of your video is, remembering to keep in mind who your audience is and who you are talking to. Once you have a plan to communicate your main message there is a plethora of free or low-cost resources for creating images, as well as using audio and video files to make a unique marketing video for you and your company. Don't wait… Get started creating your marketing video today!
---