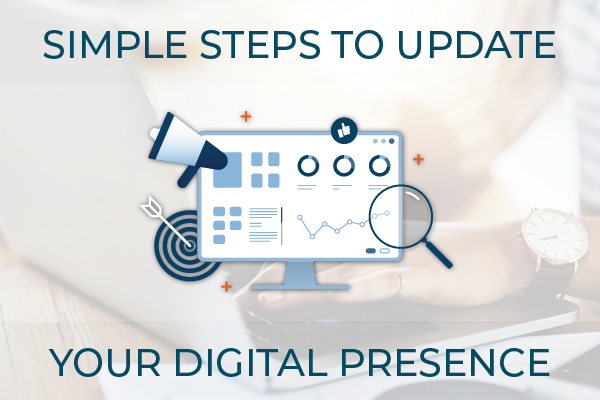 Simple Steps to Update your Digital Presence
For any business in 2021, your presence on the web is as important as your physical location's appearance. With a new generation of decision-makers, online appearances are more important than ever. So where does a systems integrator even start? Perhaps you have a large marketing team dedicated to ensuring your website and social channels are in tip-top shape; realistically though, many integrators don't have a team dedicated to marketing, brand and demand generation. This is exactly why we decided to launch the PSA Marketing Consultancy.
In addition to offering low-cost, high-quality and customized marketing services, we will also be giving free tips and tricks to our network on "low hanging fruit" that can drive results right away. So, let's talk about your digital storefront. Sure, your website might need an update and that takes planning and budget to achieve, but there are also things you can do today that will help with your overall web presence without a huge investment.
#1 – Harness the Data
Make sure you have Google Analytics and Google Search Console set up for your website. If you do not currently have Google Analytics, you can create a free account. Once you've done that, you can link to the Google Search Console. What should you do once you're set up?
Review your Google Analytics

Be sure to set the proper date range in the top right-hand corner
Review the amount of traffic that comes to your website each month
Check where your traffic is coming from
Evaluate what your greatest traffic sources are. This is an insightful exercise that can help you understand how and where potential customers find your website
Under "Search Console" and then "Landing Pages" you can review what your most popular pages are on your website as well
#2 – Ensure your Site is Secure
Have you ever visited a website and seen "Not Secure" in the web address bar? That doesn't instill confidence in the visitor that the organization is reputable. When this occurs, it means the site doesn't have an SSL certificate installed. Luckily, it's an easy fix! Depending on the platform your website is built on, there should be quick options to remediate this issue. SquareSpace automatically establishes SSL certificates while WordPress has a plugin you can install. Knowing which platform your website is built on will assist you; then you can quickly Google how to install an SSL certificate for that platform.
#3 – Demand Generation is the Name of the Game
The ABCs of selling also work for your website: Always be closing. In digital form, we call this a "call to action." Throughout your website, you should have places where a visitor can contact you, schedule an appointment, or order a product. It's great to have a "Contact Us" page, but you also need call-to-action buttons throughout your website so that potential clients can reach you ASAP.
#4 Prioritize your Content
We just designed a new website for PSA. As we determined what content would go on the homepage, we spent a lot of time going through our Google Analytics to determine the most visited pages on our site each month. This helped us determine what we would prominently link to from the homepage. It's also important to take into consideration what you want to accomplish with your website: Garnering new clients? Selling product? Showcasing partners? These business priorities all play a role in your website's layout as well.
If the above steps still seem overwhelming, or you'd like assistance accomplishing these and other digital updates, schedule a free consultation now with our digital strategist to learn more about the PSA marketing consultancy.
---

Candice Aragon
Vice President of Marketing & Events
---