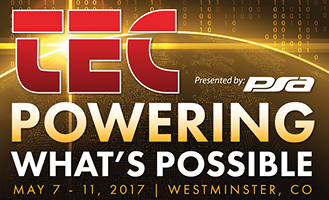 TEC 2017: Get Certified!
TEC 2017 is powering what's possible, and that includes YOU! This year TEC is hosting 16 industry and vendor certifications for integrator attendees.  Take advantage of this opportunity to earn certifications and education credits.
Here are the certification courses available at TEC 2017:
---
Altronix Hands-On Fiber Optic Technician Training and Certification
One-day complete training in fiber optic theory, cabling, connector installation, splicing, testing and troubleshooting. Learn how to connect CCTV cameras, access control, and network security devices to fiber optic links. Students take an online pre-class tutorial that teaches the basics of fiber optics. At the classroom session students will build fiber optic links, see demonstrations of splicing and testing techniques, and take a written test to achieve the Certified Fiber Optic Technician rating from the Fiber Optic Association, the largest certification body in the fiber industry.
---
AMAG Symmetry Essentials Certification Training
The class will consist of the following topics – Symmetry hardware overview, Symmetry software installation and programming, systems communication, basic card administration and configuration of basic access, system settings and configuration, as well as User Roles and accounts, System & Client Preference options, database management & disaster recovery. The students that successfully complete the practical and written exams will receive their certificates and certification numbers after the exam is graded.  You must be a current authorized VAR for AMAG in order to register for this session.
---
Bosch Technical Certification for the New G-Series of Panels (B8512G – B9512G) – 

MORE SPACE ADDED!
This course will introduce you to the B-Series Intrusion Panel features and capabilities, give you hands-on experience with connecting and configuring additional control panel modules as a part of an end-to-end Bosch security system. You will learn the basics of RPS programming functions. In addition, you will learn to connect and configure the Bosch B Series system, the similarities and differences between the GV4 and B Series panels, and the appropriate applications for each. Prerequisite: Successful completion of the Introduction to B Series/GV4 Series Control Panels Online course.
---
C•CURE 9000 System Installer/Maintainer – AC9001 – 
SOLD OUT
This is an intensive program designed to cover topics relating to system installation, configuration, operation, maintenance and troubleshooting of the C•CURE 9000 System. All aspects of system administration, monitoring, and C•CURE ID badging are covered. There is also comprehensive hardware coverage including the iSTAR controllers, iSecure Controllers (ISC), and associated readers, inputs and outputs. All methods of connecting hardware including network interfaces are covered. This course is heavily focused on hands-on hardware and software labs requiring the student to actually install, configure and troubleshoot the various components. You must be a current authorized VAR for Software House in order to register for this session.
---
CompTIA Security+ Training – With Practical Emphasis on Physical Security
Taught by CompTIA authorized Academy instructors, this Security+ training provides a comprehensive review of the IT security concepts and best practices covered by the Security+exam, plus SecureSet Academy's proprietary Physical Security Practical Lab/Demo Set for targeted physical security industry skill-building. Students will have the option to formally take the Security+ exam on site following completion of this course.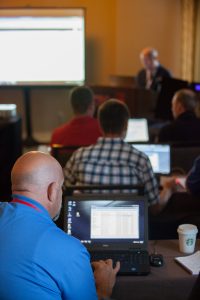 ---
Electronic Security Networking Technician (ESNT)
Electronic Security Networking is a 2 day "nuts and bolts" program teaching the basics of IP network fundamentals applied to physical security. While many IT certifications deal with in-depth elements of networking, the ESNT is a first-level program specifically for physical security technicians, sales personnel, and other security professionals requiring a strong grounding in IT basics. The program emphasizes hands-on, practical physical security-related applications. The program has been BICSI-approved for 15 Continuing Education Credits (CEC's). Further, the program provides the training necessary to allow students to test for the Electronic Technicians Association (ETA) Electronic Security Networking Technician (ESNT) certification. With this training, students are well positioned to take full advantage of vendor product training on IP-enabled devices or to continue pursuing IT industry certifications. This year's ESNT session will mirror last year's successful session, updated for new ESNT test questions and cybersecurity issues.
---
exacqVision Technical Training
The exacqVision Technical Reseller Training course is an accredited single day course that covers all aspects of installing, configuring and using the exacqVision video management system (VMS) software and recorders. Upon completion, attendees should have the skills to complete an entire system installation and use the exacqVision VMS software on a daily basis. The exacqVision Technical Reseller Training course is regularly offered throughout North America by Exacq Technologies and worldwide through Tyco Security Products. While no prior training or course work is necessary to attend the exacqVision Technical Reseller Training class, attendees can learn a great deal of information about the exacqVision VMS by utilizing the Online User Training videos available on exacq.com. Attendees must bring a laptop computer to the class. All other networking equipment necessary will be provided. Attendees can earn continuing education credits upon completion of the exacqVision class. The exacqVision training class is certified by Bicsi and the Electronic Security Association.
---
Lenel Core Certification –

SOLD OUT
This five-day course is designed to familiarize students with access control hardware, basic system wiring, software installation, and basic system programming. The purpose of this course is to guide students through the step-by-step process required to ensure basic functionality of a Lenel access control system. You must be a current authorized VAR for Lenel in order to register for this session.
See the complete conference schedule and register for TEC at www.psatec.com/sessions
Lenel Database Certification
This course is intended for technicians seeking to expand their knowledge, skills, and abilities in identifying and working with Crystal Reports in order to create custom reports for use in OnGuard. It is designed for individuals who are seeking the Lenel Certified Expert: Database. You must be a current authorized VAR for Lenel in order to register for this session.
---
LifeSafety Power System Certification
This LifeSafety Power BICSI certified course provides in-depth training on the LifeSafety Power approach to power management design and installation. Material covered includes the configuration and use of all LifeSafety Power equipment that comprises the FlexPower system including: power supplies, distribution boards, network communication and control modules, battery management techniques and system interconnection. All aspects of the award winning Netlink monitoring system will be covered, from basic setup to the new cybersecurity features. Learn how to use this forward looking technology to reduce service cost, add to the bottom line, and generate new services for the customer. Review the new Unified Power Systems that combine AMAG. Mercury, Software House, Vertex, and other access control modules for a complete solution. This course would be suitable for techs, project engineers, configuration specialists, national account managers or anyone that is involved in the sales, planning, or implementation of a LifeSafety Power system.
---
OpenEye OWS Channel Partner Certification Course
OpenEye is changing the face of security video with its new OWS platform. This new system allows resellers and end users to manage recorder permissions and configurations, view and search video, and share video clips, all using a cloud-based platform for easy and versatile remote connection, without the need for port forwarding configuration and DDNS setup. This certification walks resellers through the processes of installing, configuring, and connecting to the new Apex recorders using OWS and Command Station. Ensure that you have the skills necessary to decrease installation time, improve user access, and increase your profitability with the new OWS platform from OpenEye.
---
PowerSeries Neo Certified Technical Training
This session will provide all attendees with a in depth technical understanding of Tyco Security Products PowerSeries Neo Intrusion Platform.
---
Salient CompleteView Essentials Extended – Enterprise
This is technical certification training for CompleteView VMS version 4.6 . It is recommended for system designers, installers/service personnel, technical sales, consultant's and end users that have basic IT skills and are expected to support CompleteView. Students attending this training course will be expected to install and configure CompleteView software in a laptop computer that is provided by Salient Systems and is hosting Win7 Pro. During the practical exams, students will be required to work independently to construct a viable CompleteView Server and Video Client system, with live IP cameras, within a private classroom network. Students need to fluently speak, read and write in English.
---
Schlage NDE Integrator Training
This is an in-depth product training going over the configuration, design, commissioning and servicing Schlage Engage products including cylindrical NDE and the new mortise LE locksets. These devices have been integrated into more than 12 different OEM access control systems and allow you to secure more doors for your customer. The training will be hands on with sample units and wireless gateways so that the student comes away with a better understanding on how to design and install the product line.
---
SIA CSPM® Certification Exam
​The CSPM® examination is designed to evaluate candidates seeking professional certification in the field of security project management. The design of the examination is set forth in the examination specifications, which define the content domains and sub-domains covered on the examination, along with the percent of items covering each domain and sub-domain. The examination is comprised of 125 items. Two hours are permitted for the examination.
Applications must be approved by SIA in order to sit for the exam. Contact Kimberly Roberts at kroberts@securityindustry.org for more information. Participants must bring own computer for the exam. Fees paid directly to SIA.
---
tres900 Installation Training Course
Certification program for installers to be properly trained on the installation of the tres900 UHF AVI reader.
---
For more information and to register for PSA TEC 2017 visit www.psatec.com