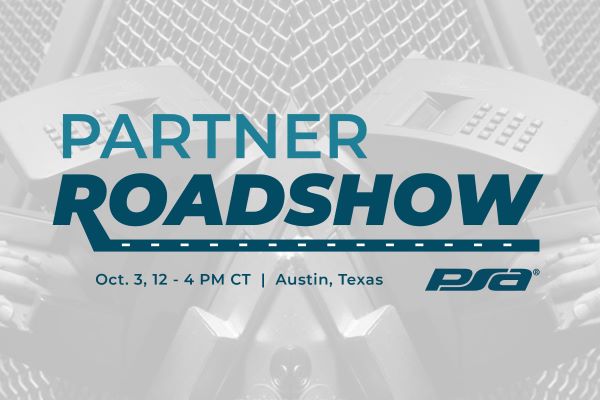 PSA Partner Roadshow: Austin
October 3, 2023
Time: 11:00 AM - 3:00 PM
Austin, Texas
Venue: Salient Systems Headquarters
The third PSA Partner Roadshow will take place on Tuesday afternoon, Oct. 3, in Austin, Texas! This roadshow offers a review of multiple project success stories with AMAG Technology, Salient Systems and Zenitel. For instance, there will be a detailed exploration of how Equinix, the world's digital infrastructure company, implemented a comprehensive security program across its multiple data centers with solutions to achieve the highest security standards.
Join us at the Salient Systems Headquarters in Austin for a deep dive into these exciting product integrations, face time with technology partners and product immersion. The afternoon will include lunch and cocktails.
In addition to the case study deep dive, participants will be split into three groups for breakout rotations. Each group will visit individual partners for about 25 minutes for discussions, Q&A and product demonstrations.
Agenda 
12 – 1 PM CT: Lunch
1 – 1:15 PM CT: PSA Introduction
1:15 – 2:30 PM CT: Case Study/Deep Dive
2:45 – 4 PM CT: Breakout Rotations
4 PM CT: On-Site Happy Hour
Spots are limited, so please RSVP at your earliest ability!
*All website times are listed in mountain time unless specified otherwise.