10 Ways to Save Time in the Field with GURU 2.0
Guest Blog from PSA Security Network Featured Vendor, March Networks
by Ru Wadasinghe, March Networks Chief Information Officer & VP, Professional Services
If you're a security technician, you know that time is of the essence when it comes to solving customer issues. Any delay you face in finding information impacts your ability to deliver great service.
You may take training to learn as much as you can about the products you're installing in an effort to expedite your service, but sometimes you still hit roadblocks with questions that only the manufacturer can answer. What you really need is an all-in-one tool that can answer your questions quickly – anytime, day or night – and guide you step-by-step to the solution you need.
We introduced our GURU Smartphone App to give our certified providers that exact capability.
With GURU, you can access advanced diagnostic information and support tools for March Networks products from any location using an iPhone, iPad or Android device. GURU gives you instant access to a database of information on our IP cameras, network video recorders (NVRs), video management software and more. And with GURU 2.0, you can find product information even faster. GURU's new workflow-based interface guides you easily to the solution you're looking for. It's intuitive and user-friendly, making it the perfect go-to solution. Just scroll through to find the product you're working with and all the relevant information is there at your fingertips.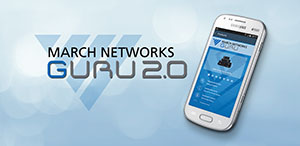 Our certified solution providers' (CSPs) technicians and installers love using GURU because it makes their jobs easier. They don't have to call our tech support line or boot up their laptops. With just a few taps on their smartphone, they can quickly resolve product issues and increase customer satisfaction.
If you've never used GURU, now is the perfect time to give it a try. Download it for free from the App Store or Google Play, and start servicing calls faster with one of these 10 time-saving capabilities:
1. Troubleshoot Issues Faster – Debug problems with GURU 2.0's enhanced troubleshooting features. Just select the product you're working with, and click the troubleshooting icon for advice on how to easily correct common issues. You can also use GURU's new smart symptom filtering feature to quickly diagnose a problem on your 8000 Series Hybrid NVR or RideSafe GT Series Hybrid Transit NVR. Just insert a wireless adapter into the NVR's USB port, make the wireless connection and GURU will instantly narrow down the list of possible issues based on health monitoring alerts. GURU's handy graphical LED utility also speeds troubleshooting with an interactive display that lets you rapidly pinpoint faults based on the color of the LED lights displayed on the front of the unit.
2. Check Product Warranty Status – Curious if the product you're working with is still under warranty? Just click the warranty check icon and insert the product's serial number. Or, simply can the product's QR code to see the warranty status. No need to call customer support or search through reams of documentation.
3. Initiate an Express Return Material Authorization (RMA) – Process an RMA right from your mobile device by scanning the QR code on your recorder or entering the product's serial number. You can also check the shipment status of an RMA'd product and find a link to the courier's tracking website so you can see exactly where it is in the shipping process.
4. Get Detailed Product Information – See what's new in our latest software releases and find details on recommended system requirements by accessing our product manuals and release notes.
5. Wirelessly Provision an NVR –Do final system adjustments like reviewing or changing an IP address or checking Domain Name System (DNS) settings on your 8000 Series Hybrid NVR or RideSafe GT Series Hybrid Transit NVR. Just insert a wireless adapter into the recorder's USB port, and scan the QR code to get started – no laptop required!
6. Calculate Bandwidth and Storage Requirements – Use our handy System Design Tool to estimate how much bandwidth and storage your customer requires. Just select the cameras you're using and the amount of time you need to retain the video and the tool tells you the estimated bandwidth and storage needed.
7. Watch a Video Tutorial – Are you a visual learner? See how it's done by accessing our extensive library of online training videos. Watch as we setup and mount recorders, replace parts, and install and configure cameras.
8. Find the Right IP Camera for the Job – Need an indoor or outdoor model, or something that works well in low light? Use GURU to access our IP Camera Selector Tool and find the perfect camera for your installation.
9. Search Known Issues and Find Workarounds –Stop time-consuming searches for answers and use our Knowledge Base instead. GURU gives you access to our database of known product issues, where you can search by product name or key word. Find out if an issue can be addressed, or if there's workaround advice.
10. Track Your Mobile Assets – With GURU, transit operators can report an incident the moment it occurs and file all case information – including date, time, images, GPS location, and recorder and caddy serial numbers – right from their phones. Just scan the QR code on your RideSafe GT Series Hybrid Transit NVR, and transfer the file in a PDF format. You can track the packaged evidence as it moves from one person to the next.
Original Blog Post: http://www.marchnetworks.com/intelligent-ip-video-blog/10-ways-to-save-time-in-the-field-with-guru-2.0