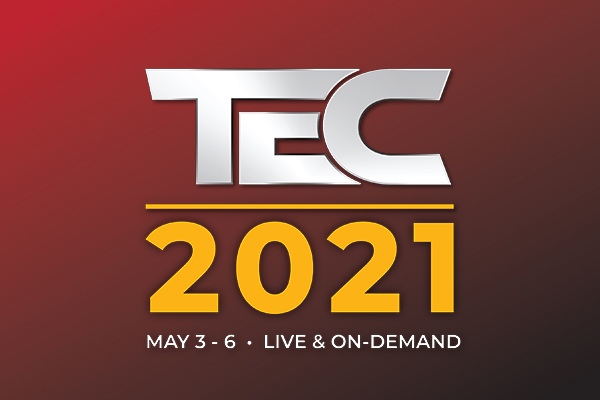 5 Things you need to know Before Navigating the TEC Virtual Platform
The purpose of this article is to give all TEC attendees the best experience possible on our virtual attendee platform. Our platform allows you to watch live stream, collaborative and on-demand sessions, visit virtual exhibitor and sponsor booths, schedule appointments, share feedback and more!
You can find everything you will need from the main navigation. The home page of the platform is called My Event. This is the first page you see when you log on to the platform. From here, you have access to networking through the Schedule appointment section, giving feedback through the Take survey section, what's Happening Now and Up Next based on your personal schedule, featured sessions – where you can access the virtual registration desk with any questions, featured partners and event details.
Visit the All Sessions tab to modify your schedule and add any sessions you weren't previously registered for. To learn more about the individual session including description and speaker bios, click the title in red. You'll also be able to:

View the session or join the meeting for the session.
Participate in Session Chat, Live Q&A and Live Polling.
Add or remove the session from your agenda.
Download an .ics file to add the session to your personal calendar.
View and download session handouts.
Take the session feedback survey, if applicable.

The My Schedule tab shows your personal schedule, including any sessions you've registered for and any upcoming appointments that have been accepted!
The Exhibitors tab shows all virtual sponsors and exhibitors. You can search for a specific vendor you wish to meet with or filter by product categories the vendors carry if you aren't sure which partner is the best fit for you yet! During exhibit hours, select the vendor you wish to speak with and Join virtual meeting to be entered into their virtual booth. If it is outside of exhibit hours, you can either Request info or Schedule a time for a 1:1 appointment.
The Game tab highlights our passport program. PSA Owners and Members can visit participating exhibit booths and be entered for a chance to win a new Microsoft Surface.
Don't forget to visit the Virtual Registration Desk under the Featured Sessions on the My Event page if you run into any challenges throughout the event!