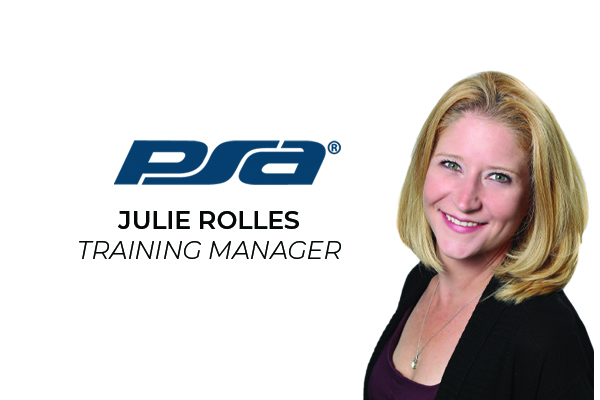 Do More, Say More, & Be More
By Julie Rolles, PSA Training Specialist
---
Good, better, best. Never let it rest. 'Til your good is better and your better is best. -St. Jerome
Success in your career involves more than just showing up every day and collecting a paycheck. Your long-term success depends in some ways, on winning the attention of others at work and in your industry. Maintaining a positive image and getting involved in the industry could help you enhance your overall career and long-term performance.
In today's competitive work environment, being good at your job may not be enough to get you noticed and you may not receive the rewards you want and deserve to grow your career. You need visibility to get more out of your hard work.
If you keep your head down and avoid the spotlight, you may be missing out on big opportunities in your field including specialized work assignments and promotions. Being visible to the decision makers in your company and industry can help you get ahead.
There are several (and subtle) ways to make yourself more visible:
Get Out There
If you are able to handle more work along with your regular tasks, volunteer for extra assignments. Expanding the scope of your responsibilities shows you are willing to be a team player and go above and beyond everyday expectations. Plus, this shows your manager you have initiative rather than waiting to be asked. Depending on your position you may be able to get involved with projects where you can work with other departments and teams, expanding your connections throughout your company. In addition to increasing your professional network, getting involved in high-visibility projects will increase your exposure to decision makers beyond your direct manager.
Another method of getting your name out there is to get involved in your industry by joining associations and taking advantage of developmental opportunities. One way to get more involved through PSA is to join a PSA Committee, which are comprised of industry professionals that come together as a network to share ideas and tackle industry challenges head-on. PSA's specialty committees deliver value to ALL integrators, regardless of size or markets served. For more information about PSA's committees, please visit: https://psaeducation.com/. You can apply to join a committee HERE or for more information contact Julie Rolles: jrolles@psasecurity.com
Say Your Piece
Your departmental meetings are a key time to increase your visibility within your immediate team, provided you speak up. If you are worried you don't have much to contribute or are shy, read through the agenda in advance of the meeting and anticipate what questions to ask or what you what to share.
If you are a new trainee, you may think of yourself as too inexperienced to contribute. However, according to Liz Weisman in her book Rookie Smarts: Why Learning Beats Knowing in the New Game of Work, she claims that "rookies consistently outperform veterans in innovation and time-to-completion." Additionally, Weisman argues that their research "confirms that rookies listen more, are more likely to ask for help, believe they have a lot more to learn, and learn faster." Weisman claims that rookies are more likely to notice details that veterans overlook. So, if you are a new trainee, don't be afraid to speak up and say your piece! In addition to sharing your insights, speaking up (especially as a new trainee) will catch the attention of others.
Share and Own Accomplishments
If you want to get noticed and be more involved in your industry and career, do not be modest – share and be proud of your accomplishments! If a colleague or supervisor gives you a compliment, be sure to thank them and acknowledge to yourself what impact you have made. Another good reason to share your accomplishments is that you may help someone else learn something. You never know what you will say or do that can help impact others around you in positive way. Sharing your knowledge will not only benefit others, but will help increase your professional profile as well.
Make Connections
Distinguishing yourself within your industry and career means you need to be well known outside your immediate team. By increasing your network and contacts, you build camaraderie and ensure you are known throughout your organization and industry. It is a good idea to know your stuff and keep up-to-date with company news.
Don't forget to connect online as well. It is important to keep your online profile up-to-date and to make sure that it has the correct contact information. People like to connect through social media and this is a great way to join the conversation and make more connections within your industry.
Be Polite
Those who are polite and mind their manners stand out from the rest of the crowd. Try to maintain a professional demeanor and even-temper. Be discreet, smile, and you will get noticed. It is important to remember that people around you will judge you based on your response to stressful situations and your emotional control. Always try to keep your manners in mind.
You can do more, say more, and be more – get going today! Practice all of these illustrated points and get involved in your industry by joining industry associations and taking advantage of educational and developmental opportunities. Another great way to increase your exposure is to speak at industry conferences like PSA TEC. PSA TEC is the premier education and networking event for all professional systems integrators, both inside and outside of the PSA network, and is currently accepting session proposals through August 13, so now is your chance to get involved! This year PSA TEC will be held from March 12-16, 2018 at the Sheraton Downtown Denver, Denver, CO. For more information about PSA TEC 2018, please visit www.psatec.com
References
Wiseman, L. (2014). Rookie smarts: why learning beats knowing in the new game of work. New York, NY: Harper Business, an imprint of HarperCollins.