FEATURED INTEGRATOR: ECD SYSTEMS
At PSA, we believe our integrators are the most innovative, advanced, and effective in the electronic security industry. To recognize these exceptional qualities, we bring PSA integrators to the stage each month and introduce them to the PSA community.
ECD Systems is Arizona's leading provider of innovative solutions for a wide array of industries. From healthcare and education to industrial, commercial and multi-family clients, ECD offers the network integrated solutions and services your property requires; including critical communications, video surveillance, access control, security, fire alarm, and more. 
---
How long has ECD Systems been in business?
33 years. ECD was formed in 1985 by John and Lucy Wornson. ECD originally stood for Electronic Contracting and Design. ECD was purchased in 1997 by Safeguard Security who continued to operate ECD as a standalone security integration division until the sale of Safeguard in 2014 at which time I, Safeguard president, formed a new company, ECD Systems, to assume the ECD integration assets purchased from Safeguard.
To date, what has been the most unique or interesting job for ECD Systems?
Challenging is perhaps what we all think of when asked about unique or interesting jobs. Every project and every customer is unique in some manner. That's what is fun about this industry and keeps us on our toes. ECD Systems is currently performing a complete access control forklift upgrade for a very large regional healthcare IDN (Independent Delivery Network). The design challenge of a large multi-site application across multiple states pales to the complexity of delivering the upgrade while maintaining access for 10's of thousands of cardholders and coordinating with a large bureaucracy and many stakeholders during deployment. But as interesting as these large projects are, the smaller applications remain our bread and butter and our team understands that. We cannot allow the "tail to wag the dog" and what's most interesting about the large projects when you are a local company is the challenge of balancing the resources to make sure your day to day clients still get your best effort.
ECD Systems is grateful for the relationships born from the PSA network.  It has made us a better business and added fuel to our growth and business plan.
What market does ECD Systems service?
Our commercial/industrial market is perhaps our fastest growing vertical as the Arizona economy improves, although healthcare isn't far behind. Our reputation for quality work and timely execution has allowed us to pursue and build strong relationships with local commercial and industrials clients providing mostly enterprise-level security, access control, and surveillance. We have also built a tremendous relationship with the PSA integrators as their local service provider on national accounts. Growth in this market has allowed us to make fast and significant investments in people, products and maybe most important our IT IQ. Following the lead from several successful PSA companies, we have made a huge investment in a network integration group. Without this investment, our growth would have been seriously limited.
How does ECD Systems grow within different markets?
While ECD Systems does a little bit of marketing, most of our growth comes from a dedicated sales force calling on clients and the word of mouth of satisfied customers.  ECD Systems concentrates on four verticals markets. And, while most of our product offerings cross over, each vertical has its unique personality, cycles, and expectations. We have always had some commercial and industrial business, but when we created a vertical market with dedicated sales, design, and project management, we more deeply understood the nature of the market and our reputation grew. Unlike our other markets, commercial and industrial clients focus on the day to day moves, adds, and changes. If you perform those well, you get the big projects when they come along. Many competitors concentrate on the big deals; we focus on the service that leads to the big deals. ECD Systems is grateful for the relationships born from the PSA network.  It has made us a better business and added fuel to our growth and business plan.
What other types of clients do you have?
ECD Systems focuses on K-12 education, healthcare and multi-family markets as our other three verticals. If it's not already clear, ECD Systems doesn't consider products as vertical, we group our business around customer types. Our four vertical markets have never all been strong at the same time. Right now, our state economy is holding education back and it's clearly the slowest of our four markets. The beauty of market diversity as a local company with a limited territory is level revenue and conservative manageable growth. However, the new economy allowed us 38% growth in new contracts in 2017 and the pace continues in 2018. Chances are, we may see all four of our markets firing on all cylinders in 2019. ECD Systems has a product specialty with healthcare clinical applications like Nurse Call, RTLS, Paging, and other integrations most security integrators don't have. For education, we also emphasize School Critical Communications and Audio solutions. We have always had these products as part of our portfolio and our network integration ability serves these categories equally well.
What makes ECD Systems stand out in the physical security industry?
We also differentiate ECD Systems by our understanding of the network, servers, software, and cybersecurity. Our best customer relationships are with those who value our network application expertise and treat us as partners in the design and delivery process. IT has a ubiquitous role in everything we do now. We remain surprised by how many of our competitors still don't understand or act on this new reality. This along with our ability to gear up and perform as equals with other related trades and national partners is foundational to our current success.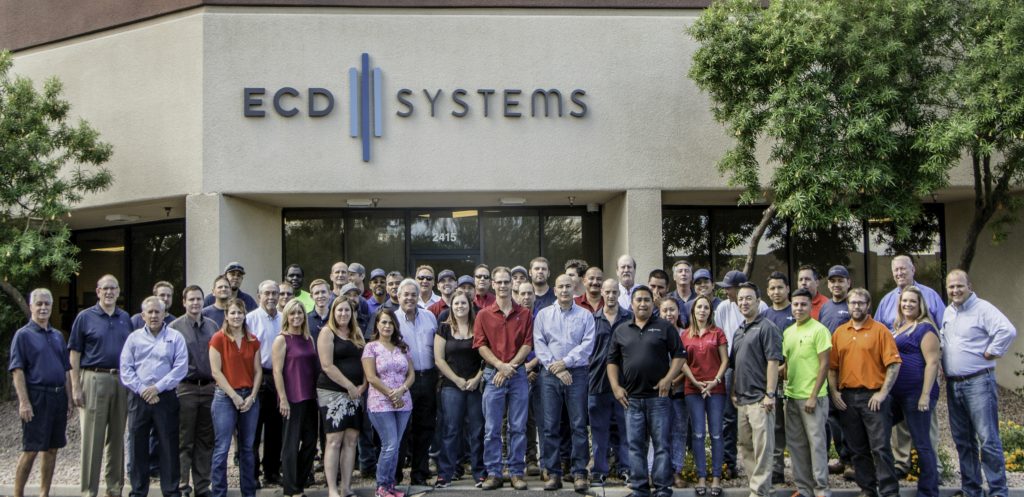 What qualities will a successful security integration company have?
Do, what you say you're going to do, when you say you're going to do it.
Do the right thing, putting integrity above profit.
Be a financial fanatic. Growth often destroys the financially unprepared.
Stretch yourself and your peoples' comfort zone, but do it wisely.
Remain paranoid. Complacency attracts disaster.
Be proud of what we do and do it right.
What are some of the biggest challenges that integrators are facing?
The commercial and industrial markets divide into local and regional/national. The local markets require relationship building with multiple stakeholders and the sales cycles tend to be long.  The national market doesn't work without great partnerships. The turnaround is faster and success is largely dependent on our ability to spin up resources quickly. Performance always matters, but working in a national environment requires unique coordination, communication, and resource allocation skills to be successful.
What is your advice to individuals who are looking to build a career in security systems integration?
Be a lifelong learner. The greatest value anyone has to their employer is making the bosses life easier. When you are constantly curious, learning and applying yourself you automatically make everyone's life easier and your value to the employer continues to rise. This goes for any business. The security integration business is evolving rapidly and it's hard to keep up. Figure out what part of the business you love the most and know everything there is to know about that specialty, while you apply your knowledge and best effort to everything you do.
Is there a key player on the ECD Systems team? 
If you can't perform you won't stay in business. Ben Wilson is a financial partner and Chief Operations Officer at ECD Systems. Ben and I have worked together building companies since 1998, 20 years. Our success is built on his shoulders and his field team. There is not a better COO in our industry and his experience, passion, and commitment combine into a leader good people want to follow.
For more information on ECD Systems: http://www.ecdsys.com/