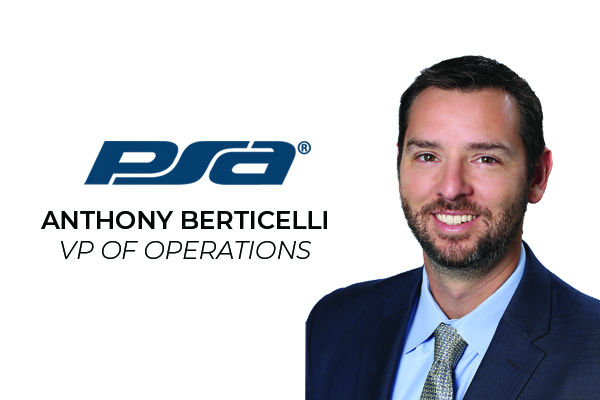 Five Minutes with Anthony Berticelli
Ever wonder who keeps the PSA Security Network engine running?
A team of talented, intelligent and fun people are working hard every day to ensure PSA leads the charge in the electronic security industry. Each month we showcase one of our PSA superstars so you can get to know us a little better. This month we have the honor of introducing you to the newest member of our leadership team, Anthony Berticelli.
What is your official title?
Director of Education
Describe your job in a couple of sentences:
I'll be focused on developing and managing all aspects of PSA's education and training. To me, it's not only about managing and updating existing training, but being strategic and creative in finding new content and methods to provide education and training resources to the market.
Can you share a little bit of information about your professional background?
I've spent most of my career working at Target in multiple security focused roles, with the past six or so focused specifically on developing, training and strategically utilizing physical security technology. In every position I had I played a role in training and education; as a peer trainer, classroom instructor, providing instructor certifications, and creating training content for all levels of users.
I started off on a completely different path- working in long term care insurance- before finding my passion for training and security technology.
What was it about PSA that caught your interest?
The first thing that caught my interest was the scope of impact PSA has. Additionally, after working in for a huge corporation, I was definitely attracted to the smaller size of PSA. I think it fits my personality better, and affords everyone the opportunity to have a significant impact. Finally, the amazing people that work here. The team at PSA is warm, friendly, and extremely talented.
As one of the newest employees at PSA, what do you look forward to most about working here?
I'm really looking forward to continuing the great things PSA does for its owners and members. Additionally, I hope I can bring a fresh perspective and approach to education that will drive new ideas and ways of learning.
What do you like to do for fun?
I've been an avid triathlete for the past 11 years, and like to spend a lot of time training and enjoying the outdoors. I have two awesome dogs, so I spend as much time with them as I can. I love camping and hiking so naturally I'm very happy to be in Colorado! I also have a love for cars and all things automotive, and watching and supporting Notre Dame football.
Any fun or interesting facts about yourself that you want to add?
Training and education reach into all aspects of my life!  My dad was a college soccer coach, so I grew up with it!  I have been a high school baseball coach as well as a nationally certified triathlon coach with Leukemia Lymphoma Society's Team in Training program.