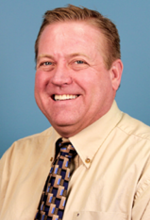 Five Minutes with Dennis Giberson
Ever wonder who keeps the PSA Security Network engine running?
A team of talented, intelligent and fun people are working hard every day to ensure PSA leads the charge in the electronic security industry. Each month we showcase one of our PSA superstars so you can get to know us a little better. This month we'd like you to meet the newest addition to the PSA team, Dennis Giberson.
What is your official title: 
Customer Service Representative 
Describe your job in a couple of sentences:
Responsible for taking care of the customers' needs in relation to order processing and follow-through; pricing and availability; and resolution of issues and complaints. I communicate with the vendors and other internal departments to facilitate the customer's needs.
How long have you worked for PSA?
One month.
Can you share a little bit of information about your professional background? 
Have over 20 years' experience in Inside Sales and Customer Service. Most my work has been in the IT industry. I have supported sales of computer hardware, software and support contracts. Primarily sales of Oracle (previously Sun Microsystems) products and solutions. I began working for a national distributor followed by moving to a regional re-seller. Eventually I came full circle and worked at Oracle.
What was it about PSA that caught your interest? 
The initial job description and duties closely mirrored my previous experience. I felt like I could learn fast and excel at the role. As the interview process went on I was very impressed by the office atmosphere, the people and the leadership.
As one of PSA's newest employees, what are you enjoying most about working here? 
The employees have been terrific. They have been helpful, supportive and fun to be around. They have created a very comfortable office environment.
What do you like to do for fun? 
I enjoy sports, outdoor activities and travel. I have taken recent trips with my family to Yellowstone and Glacier National Parks.
Any fun or interesting facts about yourself that you want to add? 
I recently worked as a Ranch Manager for a family ranch in the mountains. I had little to no prior experience with most aspects of the job.