PSA TEC 2019 Guest Blog: Increasing Value and Customer Retention with Multi-Spectral Video Solutions
TEC 2019 is the premier education and networking event for all professional systems integrators in the security and audio-visual markets. This year's event pivots around a changing market and ways to stay relevant within the industry. 
By Hunter Robinson | District Sales Manager – Western U.S. & Canada | FLIR Systems
---
What distinguishes successful system integrators from other security providers are those who provide a value to their customers beyond security. Instead of focusing on selling products and systems, these integrators offer solutions that solve an end user's greatest pain points. In the commercial sector, there is a key opportunity for integrators to expand their customer base by providing multi-spectral video solutions and remote monitoring services that substantially improve site protection.
For both small businesses and large enterprises, outdoor security and wide area monitoring have typically been a challenge. In fact, twenty percent of all small business insurance claims are for theft or burglary, according to a study by The Hartford. Inventory loss should never be casually accepted, or anticipated, just because a company houses assets outdoors.
When it comes to perimeter and site security, buried cable systems, fence shakers and other outdoor detection systems haven't been viable options for commercial businesses. This is because these systems typically require extensive time, money and resources for deployment. On the other hand, more affordable systems, like motion detectors, can underperform and cause numerous nuisance alerts. While physical guards are another option, they can cost $10,000-$12,000 per month to monitor properties during non-operating hours. For sites in remote locations or that have harsh weather climates, guards may be impractical for effective on-site monitoring.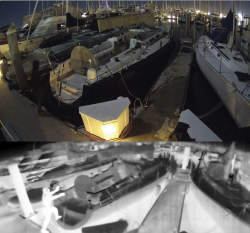 With the emergence of higher-performing video solutions featuring enhanced feature sets, software and detection capabilities, integrators can offer a reliable solution for real-time threat classification and crime prevention. The integration of technologies like thermal imaging sensors enable continuous 24/7 monitoring and optimized images for analytics, reducing false positives. By utilizing clips from both thermal and HD visible imagers, operators can better verify alarms for police priority dispatch, which can increase the likelihood of an arrest and deter future incidents from occurring.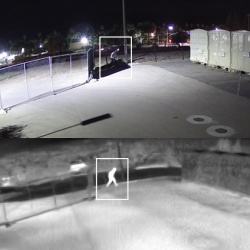 Interactive video solutions used in conjunction with bi-directional audio devices allow for virtual guarding. Often costing one tenth of an on-site guard, virtual guarding allows remote operators to react immediately upon notification of an event. The operator can engage with a suspect and issue verbal warnings that can dissuade the individual from carrying out a crime. Halting and deterring just a few incidents of theft or vandalism saves companies from loss of equipment and interruptions in business. The result is substantial cost-savings for the customer as well as a tangible return on investment for the solution.
---
Attend Hunter's Session at TEC
Building More Value with Your Customers with Effective Outdoor Intrusion Technologies
Wednesday, March 13 2:15 PM – 3:15 PM
Finding an effective system for outdoor intrusion detection for commercial customers is no easy task. While traditional perimeter systems require extensive capital and infrastructure, low-end systems have often resulted in numerous false alarms. With the emergence of new video solutions that utilize thermal imaging for 24-hour detection, HD video for visual verification, and video analytics for target classification, integrators can more effectively deploy a reliable solution for real-time monitoring and crime prevention. Deterring just a few incidents of theft or vandalism saves companies from loss of equipment and interruptions in business. The result is a substantial cost-savings for the customer. This session will look at how integrators can implement emerging video technologies to provide a tangible value and ROI for commercial customers with outdoor applications.
---
Visit the FLIR Systems Booth
Booth # 415
Thursday, March 14 10:00 AM – 4:00 PM
---
About Hunter
Hunter Robinson is the District Sales Manager for the Western U.S. and Canada for FLIR Systems' thermal security and intrusion solutions business. He has been with FLIR for nine years with a primary focus on site and perimeter security for critical infrastructure (airports, DOE, nuclear), utilities (NERC and condition monitoring), and general surveillance. Hunter shares a comprehensive knowledge of numerous detection and intrusion technologies, including thermal sensors, video analytics, RADAR/LIDAR, integrated command and control software, and traditional video management software. Hunter's education includes a B.A. degree from the University of Oregon.