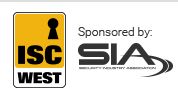 The Top 8: Security Technology Advancements Tackled at ISC West
Security Industry Association (SIA) shares the top eight technology changes driving industry advancements at the top security trade show.
---
In preparation for ISC West, the largest converged security and public safety industry trade show, the Security Industry Association (SIA) has identified the top technology advancements to look out for at ISC West 2019. The "Top 8," presented with ISC Security Events, represent the key technology advancements impacting the converged security and public safety landscape.
The "Top 8" are:
Cloud
Artificial intelligence
Robotics/autonomous systems
Mobile credentials
Security audio
Facial biometrics
5G LTE
Voice control
As physical and cybersecurity continue to converge within the broader security industry, SIA and ISC West are regularly keeping a close pulse on the trends driving this industry transformation. Together, they present what SIA has identified as the most significant technology-first issues impacting the industry and made recommendations for security professionals looking to further their education at the show.
ISC West will be held April 9-12 (SIA Education@ISC: April 9-11, 2019 | Exhibit Hall: April 10–12, 2019) at the Sands Expo Center in Las Vegas, Nevada, drawing over 30,000 security professionals and over 1,000 exhibitors and brands.
A Closer Look at the Top 8
Cloud:
Video surveillance as a service (VSaaS) is a growth area this year, as more companies deliver solutions that move recording, storage, management, analytics and monitoring solutions to the cloud. As SIA director of standards Joseph Gittens notes, this is especially common in residential video solutions, which often have low camera counts.
Artificial intelligence (AI):
AI is permeating many security product categories but is most visible at ISC West in video security systems. Attendees will see analytics applications for automated motion detection and trespassing detection, advanced algorithms performing identification and categorization of persons and objects within scenes and systems that can even analyze human behavior within scenes such as long line queues and crowded situations.
AI is also being used more extensively in the intrusion and alarm systems categories, with the promise of AI being able to leverage combined data from multiple sensors to help reduce false alarms and enhance home automation. Other firms are even offering AI solutions to identify cyber threats and network intrusions.
Categories: Access Control; Video Surveillance; IT & IoT Security
Robotics/autonomous devices:
Driven primarily by advancements in AI, power storage and mobility, steady improvements are being made in robot and drone security solutions. SIA notes that many of the companies are taking a managed service approach, allowing users to "rent" the services that these robots and drones provide.
Categories: Drones and Robots
Mobile credentials:
While a true mobile credentialing explosion may be a few years away, SIA expects the public to become more comfortable using mobile devices to complete transactions outside of access control. Mobile credentialing may expand into more commercial security installations, and industries will increasingly migrate to systems that incorporate all facets of identity management into unified systems capable of granting and managing access rights.
Security audio:
Audio has long been a component of security systems, particularly with intercoms, emergency notification platforms and public address systems, but the industry is now delivering specialized solutions which can actively monitor audio and apply analytics to the audio –enabling functions like automated alerts on possible aggression. SIA adds that audio is proving to be a value-added augmentation to video security systems.
Facial Biometrics:
Thanks to popular consumer efforts like Apple's Face ID and Windows Hello for Microsoft Windows 10, facial recognition has become less of the curiosity from futurist movies and more of a common place logical and physical access solution. As facial biometrics have proliferated in consumer technology, so has the technology advanced in professional solutions. SIA expects to find more presence of this solution on the show floor, particularly as verification accuracy increases and competition makes solutions more affordable.
5G LTE:
With the major telecommunications firms in the process of planning their networks to support 5G LTE, which could deliver nearly 10 gigabits of data per second to a cellular phone, IoT solutions that use cellular connectivity will no longer be limited to the throughput of today's 4G speeds.
Expect to see early glimpses of technology solutions, particularly mobile video security solutions with applications primarily in public safety and smart cities –even though full 5G LTE networks are still in development and are not widely available from most carriers.
Voice control:
With smart speaker adoption growing dramatically in 2018 (up 24 percent in Q2 2018 according to Nielsen), these solutions are being integrated into residential technology ecosystems. Look for new products in the areas of home security and home automation to have existing or available integration with common voice control/smart speaker providers like Amazon and Google.
Voice control and natural language processing will also likely augment video analytics. According to SIA, in today's analytics, users still need operators with a level of database/querying skills to find a particular event or scene, but the ability to say "Show me all persons in red shirts carrying an object who entered through door three" will prove much faster than waiting on an operator to input that analytic query manually.
"Each year at ISC West, the largest audience in the security industry gathers to strengthen business connections, learn and see the latest trends in security technology," said SIA CEO Don Erickson. "SIA is proud to be the premier sponsor of ISC West and looks forward to engaging with influential attendees through our compelling SIA Education@ISC education and training sessions, networking events and the SIA New Product Showcase."
In addition to connecting with nearly a thousand companies on the show floor, ISC West attendees will have access to 85 top-quality training sessions led by SIA. SIA Education @ ISC West provides critical information on the newest technologies in security.
"ISC West has been a driving force in bringing together and educating the security and public safety community for more than 50 years. As the industry moves towards a converged mindset for physical and cyber security, it's critical we're addressing the technology-specific trends our attendees are looking to learn more about," said Will Wise, group vice president, security portfolio, Reed Exibitions. "With SIA's collaboration, we're able to put forth this cheat sheet so attendees can easily identify the topics they care about and all the ways we can help them learn more."
To learn more about or register for ISC West, please visit the ISC West website or follow ISC Events on Facebook, Twitter and LinkedIn.
##
About the ISC Security Events
The ISC Security Events are owned and operated by Reed Exhibitions, the world's leading event organizer with over 500 events in over 30 countries. The ISC Security Events include ISC West, ISC East, ISC Brazil and Expo Seguridad Mexico powered by ISC, in addition to the Unmanned Security Expo New York, and Cyber:Secured Forum (Dallas). ISC West is the portfolio's flagship event with over 1,000 security exhibitors and brands participating, and 30,000 industry professionals in attendance. ISC West takes place annually in April at the Sands Expo in Las Vegas, Nevada; the 2019 event will be held April 9-12.
About SIA
SIA (securityindustry.org) is the leading trade association for global security solution providers, with nearly 900 innovative member companies representing thousands of security leaders and experts who shape the future of the security industry. SIA protects and advances its members' interests by advocating pro-industry policies and legislation at the federal and state levels, creating open industry standards that enable integration, advancing industry professionalism through education and training, opening global market opportunities and collaborating with other like-minded organizations. As the premier sponsor of ISC Events expos and conferences, SIA ensures its members have access to top-level buyers and influencers, as well as unparalleled learning and network opportunities. SIA also enhances the position of its members in the security marketplace through SIA GovSummit, which brings together private industry with government decision makers, and Securing New Ground, the security industry's top executive conference for peer-to-peer networking.