PSA Convention 2018 – That's a Wrap!
The 47th annual PSA Convention was hosted in Miami Beach, FL, October 12-16, 2018. The network came together for business leadership education, networking with their peers, and a little bit of fun along the way. The event hosted over 70 integrators representing more than 50 of PSA's most progressive owner and members companies from across the country. A big thank you to the sponsors, speakers, and attendees who participated.

Mark your calendars! PSA Convention is heading to Scottsdale, AZ, October 11-15, 2019.

RESOURCES
CONVENTION EDUCATION RECAP
This year at PSA Convention we held three half-day educational sessions. Two of those days revolved around business leadership topics and the third day was dedicated to a PSA 2018 business review and presentation on plans for FY2019. Here's a look at what you may have missed:
Foundations of Effective Leadership- What Really Works!
Presented by Pete DeLisle, Educet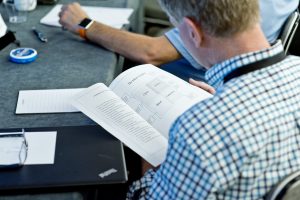 Our Saturday half-day session examined the challenges presented when leaders with different perceptions and styles make decisions and solve problems. Pete Delisle of Educet presented a leadership model that stated to be an effective leader you needed three things: Awareness, Ability and Commitment.
Throughout this session the group discussed competencies, interpersonal skills, problem solving methods, and overall leadership styles to help us become more effective leaders of teams and businesses.
Doctor DeLisle led us on a rousing expedition to understand our place in the Adaption Innovation Theory and worked through the assumption that everyone solves problems and uses creativity to do so – it's the thinking, style, and level of problem solving that distinguishes Adapters from Innovators. And those folks in the middle – who are known as Bridgers – they bridge the extremes between those two groups.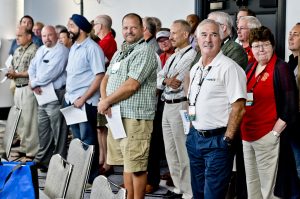 The audience then organized in one long U-shaped line from Adaptors to Innovators and talked about how we interact with each other and how we need both groups of these different types to be successful in business.
The simple, yet effective foundational concepts presented in this session were pertinent for anyone in a leadership role. Whether it was the model of leadership effectiveness, the Adaption-Innovation theory, or the other tools utilized throughout the session, attendees were continually led full circle to a personal realization of not only their own leadership styles, but also a realization of the styles of others and how they can most effectively work together.
---
Elevate Your Team
Presented by Hal and Baadrea Bagley, Elevate2Lead
Our Sunday half-day session focused on accountability and effective communication. Not everyone excels at clearly communicating crucial information. So, how do we get leaders to recognize their role in properly communicating objectives and goals? Discussion and exercises on those topics followed.
Hal and Baadrea Bagley split us into teams of 5 people each. Each person was given written instructions on who they could communicate with. No verbal dialog – only written communications were allowed. We then discussed the parallels to business life and how we communicate company tasks, goals, and strategy and how some groups of employees are often left out of critical communication.
This session drove home the role a leader plays in creating a culture of accountability and communication in their own organization.
---
PSA Financial Metrics and Business Review
Presented by PSA Leadership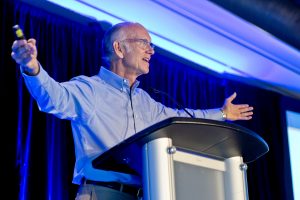 Our Monday session was a business review of the year that was, FY2018, as well as a look at trends, business and financial metrics, and plans for growth and improvement in FY2019.  Paul Thomas, our Chairman of the Board spoke first and reviewed our mission and vision statements as well as introduced the current Board of Directors. He was followed by Bill Bozeman who reviewed PSA history as well as shareholder equity and how that's earned. Bill then talked about the top 6 current disrupters for the security industry (Cloud based Solutions, MSPs, Mobile/5G Connectivity, Cybersecurity, Biometric Identity Solutions, and AI).
Steve King gave a financial update on the health of the company by reviewing KPI's, company metrics and shareholder information.  Dividend checks were handed out to all attending shareholder companies.
Steve King was followed by Ric McCullough who reviewed PSA Operations team highlights, comprised of Sales, Customer Service, Education, Marketing, Vendor Management and Pricing, and discussed what was going well, what could use improvement, and our FY2019 plans to improve those areas.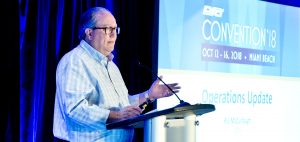 Customer contact sheets were handed out for all companies in attendance with the goal to provide updated contacts to receive company related content and emails. The Future of PSA Convention surveys were also handed out to all in attendance so that we can gather your ideas on what direction Convention should take in the years to come. If you have not received your copy of the survey please contact marketing@psasecurity.com to weigh in.
Following Ric McCullough, Chris Whitley presented the superb FY2018 results of USAV and discussed plans for FY2019 initiatives, including the continued integration of USAV into PSA operations. USAV is heading into their annual Fall Partners Meeting this week in Nashville, TN with a staggering 75% attendance rate for the integration group.
The second half of Monday's meeting kicked off with an overview of the PSA Financial Metrics Report with insight from leading PSA integrator Mike Bradley of ECD systems and industry veteran Chuck Wilson of NSCA. The group reviewed the report findings from 30,000 ft and dove into topics such as labor shortage, employee commissions, and backlog. The presentation closed with highlights from NSCA's financial reporting.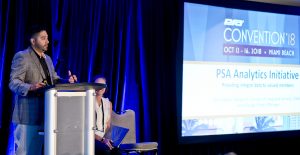 Chris Salazar-Mangrum and Katie Blough then led the audience on a detailed walk through of the new PSA Analytics Initiative. This project allows any PSA owner company to log into a live, dynamic dashboard of their company's transactional activity from what they purchase and RA's issued to open orders, shipping details, and tracking info. This has been a year-long work in progress that is now available for PSA Shareholders.
Bill Bozeman led a discussion on MSP Managed Service Programs and why all security integrators should convert at least 20% of their day to day business to an MSP model.
We closed out the Monday business meeting with a discussion on programs and resources and collateral that PSA provides and how we can get better viewership on those offerings. We are always open to new ideas on how to better communicate – while understanding that you need to also run your own business.  If you have any ideas or suggestions for the PSA team we want to hear them! Contact marketing@psasecurity.com
---
CONGRATULATIONS PRESIDENT'S AWARDS WINNERS!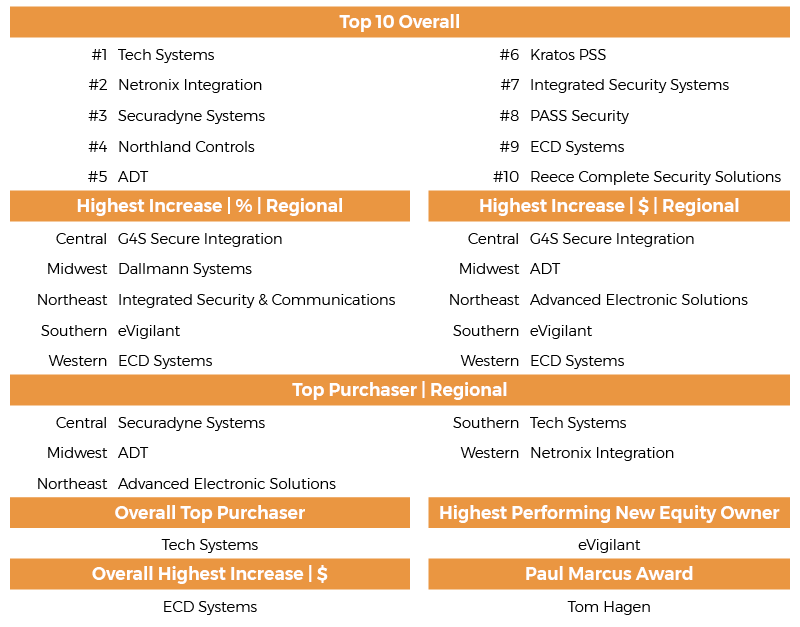 SEE YOU NEXT YEAR!
Scottsdale, AZ  |  October 11-15, 2019